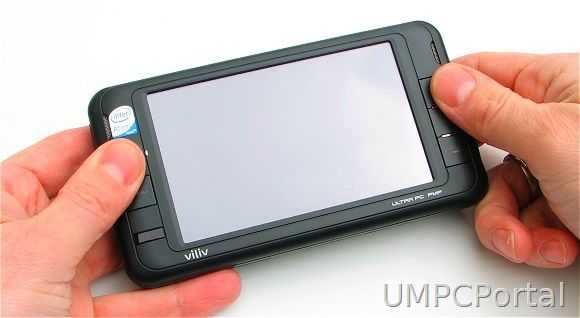 After many months of wondering if the S5 was going to be as good as we first imagined it to be, it's time to review the final retail version and make some conclusions. The Viliv S5 is one of the smallest tablet PC's in the world. It includes a full PC hardware architecture and Windows XP software. The manufacturer has used a mature design from it's PMP range and the end result is a solid, well-built pocketable device aimed at media, web browsing and, due to the built-in GPS, navigation.
Vilis S5 specifications, discussion, links, videos and images in the community specifications page.
First five minutes.
Viliv clearly have experience at pleasing the customer in the first few minutes of ownership. The packaging was good and included a surprise car package and leather pouch. This isn't a standard accessory pack but we have seen a standard retail kit and again, the packaging was excellent. The S5 feels really solid in the hands. Tough in build but also rather dense. It only weighs 395gm (14oz) but as it's so small, it feels slightly heavier than it should. Plastics are well fitted all round, there's a nice matt finish to the black plastics and the cursor joystick feels well built. Plugging the battery in is easy and the device was booted in around 75 seconds. You're presented with Viliv's Cube UI overlay software and for the rest of your first five minutes, you'll probably be playing around with it. It's a new, fun, interesting way to view applications and shortcuts.
The unboxing and overview video is available here.

Review package contents included some nice accessories.
Specifications
The Viliv S5 is based on the Intel Menlow platform that includes the Z520 Atom CPU and the 'Poulsbo' chipset (US15W) which includes a GMA 500 GPU and video decoding hardware. It's exactly the same setup as on the Kohjinsha SC3 and Sony Vaio P which are much bigger devices. On the review model we had a 60GB hard drive (not SSD) and 1GB of RAM. There's Wifi, Bluetooth, the GPS module, an infra red receiver, stereo speakers, a 1024×600 glossy, LED-backlit touchscreen and a number of back-lit buttons. The battery is a relatively large 24hr unit. Full specifications can be found on the product page.
Initial impressions
We wrote our initial impressions and link to a lengthy Q&A and testing video in a separate article, available here.
No showstoppers and an overall good feeling makes me want to use this device more and give the on-screen keyboard a chance. The battery life is incredibly impressive and the device truly is giving the user the full internet experience. Even without 3G and a fast SSD its up there as the best pocketable ultra mobile PC in my opinion but the lack of keyboard will be a not-starter for some. A real mouse pointer would have made it so much easier to navigate and it's the only thing I'd class as a failure although some are also going to add the lack of microphone under that banner. Windows XP works well, the on screen keyboard and Viliv touch UI work well but Windows 7's touch optimised interface and on-screen input could make this even better and give it even more character. The Viliv S5 raises the bar for UMPCs.
From the outside.
It's clean looks and quality switchgear all-round with the Viliv. On the top you find an antenna (for the unused, Korean, DMB TV receiver) a three way (up, down, mute) volume switch, and on the top left, a headphone port. This is not a headset port and note, there is no built-in mic so you'll have to think about Bluetooth or usb audio dongle for audio input.
On the left you find a flip-down cover that hides a mini-usb (for using the S5 as a USB drive) usb and a/v breakout port. The a/v breakout port is for an optional cable that can supply component, S-Video, VGA, audio and composite signals. We didn't have this accessory so it hasn't been tested. Underneath the device are two airflow ports.On the right is the power/lock switch and the battery release catch. The rear of the device is covered by the battery.
Controls
On the frame of the the S5, you'll notice the joystick on the top left. It's a cursor control that can be turned into a directional pointer for the mouse and has a 'tab' response when pressed. As a mouse pointer its not accurate and not proportional which is a shame. A mouse pointer would have been far more useful considering the positions of the left and right mouse buttons on the right side. Underneath the joystick is a 'menu' button that's equivalent to the Windows key on a keyboard. Underneath that is the IR receiver. On the right-hand side are the left and right mouse buttons (the left mouse button, marked MENU, also turns the screen off after along press) and a dedicated on-screen-keyboard button.
Note that there is no stylus silo. A pick-style pointer is attached to the lanyard and due to the very high resolution screen, is often needed for menu items. The lanyard is a useful addition and we kept it attached to the S5 all the time.
Screen
The 1024×600, 4.8 inch screen is impressive. High quality images and videos look fantastic. Colors are good and the brightness too. The glossy finish helps fingers slide across the touchscreen for dragging actions but in sunlight, the glossy screen is an annoyance. Watching videos on a sunny day is a no-no. The other issue with the screen is the high resolution. Default windows XP fonts and window elements such as scrollbars and close buttons can be difficult to use and see. The XP font size needs to be set at the 120dpi level to improve readability. ClearType is recommended too.
Viliv S5 photo galleries here.
Screen Viewing Angle
Viewing angle in the horizontal plane is good from both sides. It's viewable from below too but there's a big drop-off in clarity and brightness when viewed from above.
On screen keyboard and haptics.
The on screen keyboard is well thought out. It's activated using the dedicated button (bottom right on the frame) and also uses haptic feedback. A small vibration provides feedback that you've pressed a key and for an on screen keyboard, it's a reasonable experience. There's no word completion though and numerics are hidden under a 'Mode' button. Function keys are missing too. There's also a problem with focus. Some applications push themselves in front of the keyboard. Most noticeable was the Awesome Bar in Firefox which is a great help when matching typed characters against web history and search. Unfortunately, the selections cover the keyboard and if your next key is hidden by the options, you're in trouble.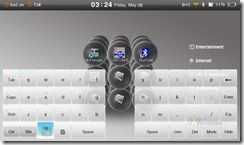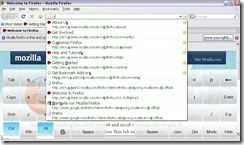 On screen keyboard and firefox drop-down issue. (Click to enlarge.)
Overall, the OSK is useful and for a media consumption and navigation device where the most you will be typing is a URL or password, it wouldn't have made sense to reduce the battery size to fit a slider or clamshell keyboard into the design.
CubeUI
The CubeUI software is an interesting application. At first it felt like a fun addition to the package but after a while we found ourselves turning it off in favour of the standard, and often quicker, XP desktop. We see where it could be useful though. It can house over 100 applications, shortcuts or bookmarks, includes an easy way to control BT and Wifi, a nice calendar and weather application and is easy to push into the background if you need to access raw XP.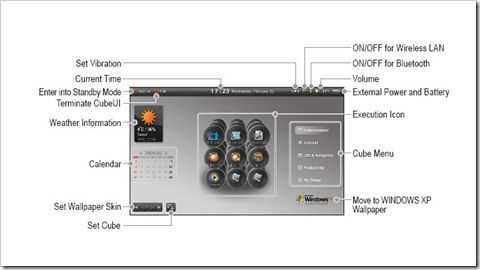 FastWeb Browser
Viliv have included a touch-friendly browser which we believe is based on uZard by Logicplant. The UI is simple and easy to use but the browser itself is slow. The reason is that Viliv have implemented a proxy server, in Korea (fastweb.myviliv.com port 7999.) For users in Korea this is obviously going to be a fast and efficient solution but outside Korea, its not. From our location in Germany, traffic was router over Amsterdam, New York, San Francisco and out through a series of routers in Asia resulting in 0.5 second round trip times. Apart from the potential privacy issues, its slow. Not recommended.
Additional Software:
I-Viliv update manager: No updates were found through this but we assume it will provide easy access to Viliv software updates.
Viliv Manager: A simple application for controlling Wifi, Bluetooth, screen brightness, vibration and enabling CubeUI to start on Windows boot. Most of these options are duplicated in CubeUI itself.
Music studio: A simple music player. Some controls appear in Korean and the application doesn't run in full screen. A basic application.
Viliv Player: Plays back video and, where possible, enables hardware decoding. See below.
Infra Red.
We can only assume that the IR panel is for a future upgrade because there doesn't appear to be any hardware associated with it. We tested with a Media Center remote and got no response.
Performance.
We've tested the Menlow platform extensively on 4 different PCs now and we're extremely happy with it's balance of performance and efficiency for mobile usage. We pages load promptly and media playback works well. As a synthetic test, we ran CrystalMark:
CrystalMark test results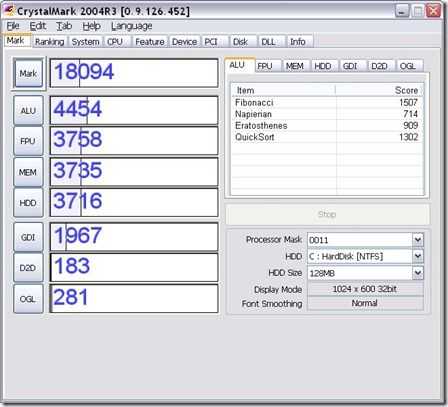 CPU, GPU and Memory scores are all on par with other 1.3Ghz devices we've tested. The hard drive scores are typical of a 1.8 inch drive and, compared to some of the new SSD drives we are seeing, quite slow. Given that this is targeted as a media device though, a 64GB SSD would have added $200 or more to the price so that speed/capacity trade-off is acceptable.
Video performance.
The Viliv S5 includes the Intel US15W chipset which includes the GMA500 GPU and video decoding hardware for H2.64, WMV, MPEG4 and MPEG2. Out of the box, Windows XP isn't set up to use this hardware so video decoding results with Windows Media Player aren't as good as they could be. Installing the Cyberlink PowerDVD 8 software and utilising the codecs included in the software can result in very impressive H.264 and WMV performance figures. With these tweaks we were able to successfully run a 1920×1080 H.264 that averaged over 12mbps.
Viliv include an application called Viliv Player. It's a simple video player but a useful one as it enables some high performance playback using the build in hardware decoding. Not only does this improve the performance, it saves battery life by keeping the CPU usage down. For example, when playing a 4mbps 720×400 DIvx, the CPU level was at about 30%. A 1280×720 H.264 file (at 3.5Mbps with AC3 audio and subtitles in a Matroska envelope) played perfectly with just 25% CPU utilisation. There appears to be some acceleration of WMV files too but this doesn't seem to be as good. A 6.5Mbps file we played started stuttering after about 20 seconds. In general though, the media player performance is very good and the colours, sharpness and contrast are exceptional on the high-resolution screen.
[Note: Video playback results will vary with different files, filters, drivers and playback software]
As for inline flash video, the normal quality YouTube videos work well in both windowed and fullscreen modes. HQ videos are smooth in windowed modebut some frame loss creeps in when in fullscreen mode. The Viliv S5 CPU is not powerful enough to show HD quality YouTube videos despite these being in H.264. The flash player does not link with the Intel hardware to enable hardware decoding. [Tip: YouTube HD videos can be downloaded with the help of 3rd party software and then played offline from the disk and outside the flash environment. ]
Audio.
Audio quality from the Viliv S5 is excellent in comparison to other UMPCs and Viliv also included a good quality set of earbuds. The speakers are far from full-sounding but compare well and are loud enough for watching a video or streaming audio. The Bluetooth stack is capable of A2DP too so there are good options for listening to audio tracks.
Heat and noise.
Viliv have designed the S5 without fan which results in near-silent operation. Only the HDD can be heard and even this appears to be well insulated. The device can get warm under load but we didn't notice any worrying heat build-up. We tested the device for short (sub 1hr) periods while on in a bag and heat build-up started to increase but with the screen off, locked and with the device in power saving mode, it should be possible to play MP3s for an extremely long time (estimated over 10hrs)
Stability.
During the three weeks that we had the Viliv S5 we so no indication of instability.
Boot-up, standby, hibernate speeds
Boot-up from cold requires about 1 minute. Standby (return) varies from around 2 seconds to 6 seconds indicating that there is a two-stage standby operation going on in the background. Viliv claim 200hrs standby which we weren't able to test but based on overnight standby battery drain, we would expect well over 100 hours standby .
Hibernate is difficult to achieve through the start menu due to the backgrounding of the on-screen-keyboard (shift key is needed to enable the hibernation button) but in a test, return from hibernation was an acceptable 30 seconds.
Battery life.
One of the best features of the Viliv is its battery life. One of the problems on the Viliv S5 is that the battery life indicator was unreliable and didnt ever show a remaining time making it hard to measure battery drain. In a full Battery Eater Pro test, a worst case scenario, the device lasted for 234 minutes, over 4 hours. That's an average of 6 watts which is about half of the power that even the most efficient netbooks would use under the same test.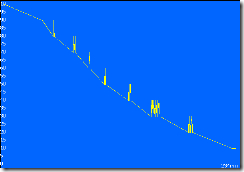 6hrs of Wifi-on browsing should be expected on the Viliv S5. 6hrs video playback (using hardware decoding) and 6-8hrs of Ebook reading (wifi off, 50% screen brightness.)
GPS.
A SirfStarIII GPS chipset is included and in the first device we had, we couldn't get any software to hook up to it within a reasonable timeframe. Viliv sent us a second review model which worked better but we're still not convinced that everything is working 100%. It seems that despite the GPS sending signals over the COM1 port, applications don't see the correct protocol and don't sync-up. In some cases applications never got a GPS signal, in others, the lock was extremely quick. We will be testing the Viliv S5 with Mapfactor PC Navigator 9.
Application tests.
Firefox3, Chrome, Opera, Tweetdeck and Thwirl all tested perfectly.
Skype V4.0.0.224 works well but USB or Bluetooth headset is needed. No cam for video.
YouTube – works well All normal quality YouTube videos tested well in windowed and full-screen mode. All HQ videos tested worked in windowed mode. Many worked perfectly in full-screen mode too. (Always-on battery mode) No HD YouTube support.
Google Earth (4.2.0205) worked reasonably well in DirectX mode. Certainly not as smooth as on a desktop or laptop but usable.
Other software tested: Ipoki plugin. Mapfactor Navigator.
Firefox load times.
Firefox application startup time: 11 seconds.
Page load examples (full script and flash support over Wifi.)
UMPCPortal: 6-7 seconds
Google News: 1-2 seconds
CNN.com 7 seconds
Facebook 3 seconds to login screen
uk.yahoo.com: 2 seconds
Techmeme: 6 seconds
Gmail (full version): 7 seconds
Google Reader (633 items): 4 seconds
Overall, page loading times were extremely fast and matched almost exactly, the times seen on the UMID M1.
Gaming.
We haven't tested any games with the Viliv S5 and due to the relatively poor 3D performance figures, wouldn't recommend this for modern gaming. Casual gaming will be fun as the controls seem well-placed.
WiFi/Bluetooth quality.
Bluetooth quality was not extensively tested. The system uses BlueSoleil version 5.4.244 which, in our opinion based on a number of devices running the same stack, is stable and easy to use.
We had no problems at all with Wifi configuration or reception. Reception appears to be slightly better than average for UMPCs. The Marvell sd8686 only supports B and G modes.
Missing features: Media Slot, Webcam, MiC
In our opinion the Viliv S5 is capable of running as a Skype client for many hours so the ommision of a MIC or MIC input is a mystery. A Bluetooth headset is the answer here. We also missed a media slot. The S5 could have made a great partner device for previewing and geotagging photos with an SD card slot. A USB SD-Card holder solves the problem. Finally, and linked with the Skype observation, we would have liked to have seen a web cam built in.
Optional accessories.
The accessory pack provided was of very high quality. The leather case (Viliv call is a pouch but we would call it a case) is well made with a plastic clip-in holder for the S5. It also includes a stylus but we don't expect it to last long before dropping out and getting lost!

Click to enlarge. Full gallery available here.
The car kit comprises a two-part suction mount that we've seen and tested before with the Raon Digital Everun. It holds well and adjusted in two directions. Also included in the car kit is a 12V adaptor. Not shown in the photos (but viewable in the photo at the top of this article) is an acrylic protective case. For those with an adventurous spirit, this allows you to protect the device and even use it when protected. It fits easily and holds well.
Who's the target customer?
The Viliv S5 is squarely targeted at mobile media consumption and in that role it's a high-class, well-built, flexible, adaptable device. We won't say that it's as easy as an Archos device to operate but it's way more flexible. As Windows 7 nears, the S5 becomes more interesting. Windows 7 supports hardware decoding for H.264 out of the box (we've tested it on similar Intel platforms and it works well) and has much better built-in media facilities . The screen resolution is as high as you could sensibly go for a media device of this size and the colour and brightness are great. Its only the glossy screen that needs to be considered if you're planning to use the device outdoors or by windows (in busses and trains for example.) Battery life for video playback (wifi off) should easily reach over 5 hrs and 6hrs if you are able to enabled the hardware decoding on the chipset. As a music player we expect the device to last over 10 hours. With 60GB storage, there's enough for a good selection. Its stylish on it's own and looks great in the case.
As a navigation device the S5 falls a little short in that it doesn't come pre-installed with any software. The time to get a GPS lock on our device also makes us think about cheaper dedicated options but if it's a navigation and media center you want in the car, it's a different matter. We've seen the S5 running StreetDeck and it's an impressive setup. The breakout cable has potential for being permanently wired into a car system. The chipset even supports clone and extended monitors so you could run the navigation software on the device and a video on an extended screen.
As a pocketable web tablet the Viliv has some value but only for web consumption. Text input with the on-screen keyboard is difficult to get comfortable with. Web page quality and load times are really the best you could ever hope for in the market today so if you're the type that needs to flip through a set of bookmarks or simply track a single web application, this is a good quality, long battery life solution.
The Viliv S5 works as a mobile computer but we found it difficult in table-top mode with an external keyboard. At 50cm you have to increase font sizes a lot and there's no stand. It's not ideal but because of it's excelent standby time, it does make a very good backup computer.
The Viliv S5 doesn't work well as a traditional tabletPC. The resistive touchscreen is not palm resistant and you'll have to find a copy of Windows XPTE to load onto it to get a chance to use the tablet input panel. Even then, we're not sure if the touch drivers are TabletPC compatible. We haven't tested Windows 7 RC1.
Summary
High quality. Great battery life. Excellent build. Class leading PC portability. Fast, high quality web browsing, high-end video quality and a good range of accessories make the Viliv S5 a confidence-inspiring package for flexible, high quality, mobile media and carPC setups. The on-screen keyboard limits its text input capabilities but its a PC for the pocket and if needed, could be used as a complete desktop system. We're impressed with the Menlow platform and the significant improvements in battery life over the last generation of ultra mobile platforms. Glossy screen, missing microphone and GPS lock times are things we'd highlight as possible issues and it's a shame that the mobile browser and digital TV don't work but all-in-all, it's a great package and highly recommended for people looking for a pocketable tablet-style, media-focused UMPC.
Pricing and availability
The Viliv S5 is currently available as an exclusive at Dynamism.com where, on the 14th May, they will be offering 400 pre-orders with a special accessory pack included. Car kit, additional battery and leather case along with the Viliv S5 Premium, as reviewed here, for $599.
Many thanks to Viliv for sending the S5 over and being available for questions.
Full specifications and latest information is available in the Viliv S5 information page. Click to access.