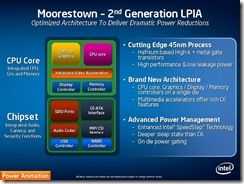 I wrote an update on Moorestown last week over at MIDMoves.com but I want to expand on that here on UMPCPortal today because I really think that the new information we have now is extremely significant for the core audience here. Moorestown is the first computing platform that covers my definition of ultra mobile computing. From high-end smartphones, through targeted, Ultra Mobile 'desktops' , super-mobile laptops and the whole range of internet-connected opportunities that exist in the mobile internet space.
For those that are new to Intel's low power ultra mobile products, Moorestown is the 2nd generation computing platform (not a CPU) that follows 'Menlow', the product you find in many MIDs and a number of netbooks. Moorestown is very small (about half the size of a credit card) and very power efficient. It uses an Atom CPU core and dedicated 3D and video hardware.
Firstly, let me summarise what we learnt about Moorestown from Intel last week.
50x less platform power usage in idle mode. In real world terms, multi-day idle.
Intel states that Moorestown will enable far better smartbooks than on ARM-based products.
Moblin V2 supports Moorestown but not Menlow. Menlow is seen as a ultra mobile PC (Windows OS) platform now. [UMPCs are back on the scene!]
Moorestown can include voice-capable (GSM) software and hardware.
Moblin V2 controls the Moorestown platform like no other operating system will be able to.
The Atom core has been further refined for efficiency. (The core Atom architecture stays the same)
Windows products will run on a 'version' of Moorestown but Menlow is still the focus for Windows products through 2009 and 2010
Running Windows on (the Windows-compatible) version of Moorestown will not bring your the power efficiencies that Moblin will.
All-day battery life is here.
Moorestown supports 720p video recording.
Moorestown supports 1080p playback.
It might come earlier than expected (based on the advanced-stage products that were demonstrated, end of 2009 seems highly likely.)
We have no idea about versions, SKU's or CPU clock-rates.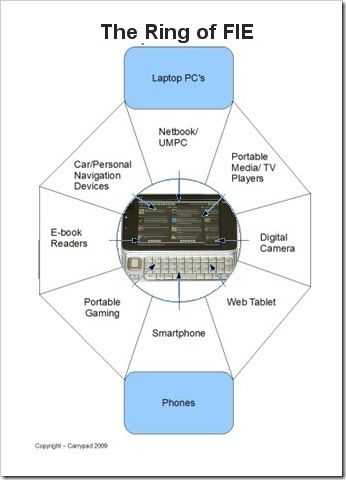 My interpretation of what I saw is that Intel is now in all of the 'full internet experience' (FIE) markets with Moorestown. Smartphone, superphone, smartbook, netbook, mid, carpc, ebook readers, umpc, gaming, pnd and pmp. It matches the ring of FIE (image above)
Let me highlight three of the new segments.
Smartphone
Expect Moorestown-based devices to be as small as a smartphone and to be able to run, on a smartphone sized battery, for over 24 hours. Intel are telling us that devices will idle with 50x less power drain than today's Intel Mobile Internet Devices. The worst MID I ever tested ticked-over for about 1 hour on the juice of a smartphone-sized battery. Intel says that this will increase to 50 hours. The best-case scenario, based on testing I've done on the current best-of-Intel is 3-times that figure. 3-days active standby.
Smartbook
Moorestown scales. It sleeps with one eye open but when it wakes up it's capable of Internet browsing speeds, accuracy and richness that you will have never seen on an ARM-based device. I'm expecting high-end versions of Moorestown to bring sub 10-second average page loads to every web page on the Internet. The current best smartphones take twice as long as that and the next-gen may only shave 50% off that. Moblin goes head-to-head with Android and Maemo here and could even challenge Windows Mobile products.
Mobile Creativity / Microblogging / Social networking
I really wish Intel had highlighted HD video  recording as it's an important benchmark figure these days. Smartphone manufacturers are building these facilities into their devices and HD video is a huge growth area on the Internet. Moorestown enables 720p video recording. Not only that but the software layer has been designed with that in mind too. GPS-enabled applications with social-networking capabilities are baked into the software making it easy to make compelling mobile applications. Moorestown should enable you to get more creative, quicker. [continued on next page…]
Pages: 1 2