Naturally for MIDs and UMPCs there are also some nice improvements. A Moblin-based MID is likely to return 2x battery life under average usage scenarios meaning that we're up to 10 or more hours of in-use battery life.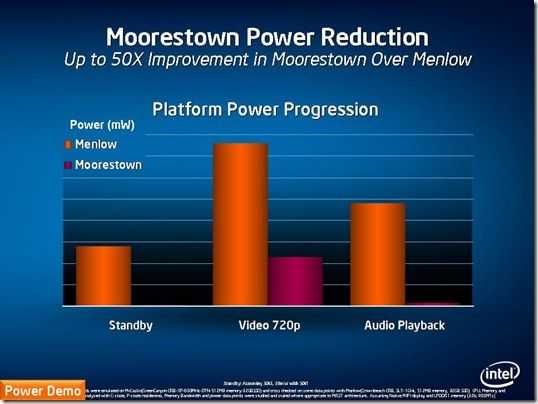 Taking data I have from Menlow based platforms I can add real world figures to that diagram. For standby, the slide shows negligable power drain. For 720p video playback, 2W overall power consumption and for audio playback (screen off) it's showing about 200mw. In real-terms, with very pocketable devices, you're looking at multiple day audio playback and standby and 4hr 720p playback. Note that these are probably best-case figures and again, only my interpretation based on my work with many Menlow-based devices.
I've had time to chew over one more, less obvious features of Moorestown since last week and I'm calling it 'Getting Things Done Battery Life.'
The days of idle smartphones are long gone. People don't let their devices idle for long and if you push your device to the limit, you're in a sub-4hr usage bracket and not a multi-day standby bracket. iPhone users at South By South West this year were a classic example' there were more iPhones connected to power outlets than laptops!
Standby battery life is no longer an important benchmark but idle power is still extremely important. Especially if you have a powerful platform that gets to idle more quickly than other platforms.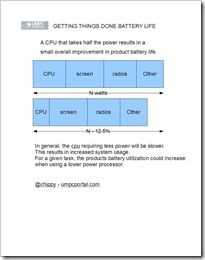 In general, the slower the platform, the more time the device spends with the screen on, with the CPU working hard, with the radios out of standby and the memory, busses and storage awake. 'Hurry Up and Get Idle' is the expression that Intel use to highlight their advantage in this area and it deserves some thought because, apart from it being demonstrated live on stage at Computex, it's something that we ultra mobile PC users have been aware of for some time. When you are mobile, time is important.
Imagine a simple web page. You take your device out of standby, the screen comes on and you type the URL. At that point the memory, radios, data bus, storage and CPU all wake up and start consuming many times more power than they do in standby. A device could go from 100mw in standby to 2W when loading a web page. That's a 20x power drain increase. It's not difficult to imagine that a device that takes 7 seconds to load the page with a total power drain of 2W, uses LESS power than a system that take 15 seconds with a power-drain of 1.5W.  Over that 15 second period however, the faster device needs to get to very low idle levels to capitalise on the advantage.  The same applies if you've got background applications running. The faster you can do it, the quicker the device can go back to idle.
The principle of 'Hurry Up Get Idle' does require specialised software though and that's where Moblin comes in. It's been designed from the ground-up to be able to control the Moorestown platform like no other operating system will be able to.  Here's a video I took in the Ultra Mobility event that shows Intel demonstrating Moorestown platform power.
You can see the full presentation in much higher quality at the Intel website.
There's one important issue with all this fast processing. When you've got it, you use it! A 5-minute waiting line is always a 5-minute waiting line and you will browse until you get to the cashier. The other issue to consider is that some people aren't worried about getting things done quickly. They would rather have a cool device with cool software. Moblin and the OEMs have to tackle this problem but to me, it looks like they've already taken it into consideration.
Finally, it has to be said that if you're the fastest, other people are going to look towards you. As either a user or manufacturer, setting a new benchmark bring you kudos. The user becomes satisfied. The OEM gets valuable eyeballs.
Summary
Moorestown dips into the smartphone segment and brings voice and a new level of processing power to that sector. It also introduces new levels of platform power control. Moblin will be able to take advantage of this like no other pc/software combination before it or even after it. Microsoft will struggle to get the best out of Moorestown and it's possible that the early platform won't even support Microsoft OS'. Intel have clearly stated that you won't see the power efficiencies with Windows that you do with Moblin. [The fact that Intel has an x86 platform that isn't Windows-friendly is worth discussing!]
The platform extends up out of the smartphone segment all the way up to the thin and light netbook segment. Moblin too. It goes head-to-head with Android although in this case, the software has been designed from the ground up for both of these segments. It remains to be seen how Android scales to netbooks or 'smartbooks.'
Intel have a real selling point if their devices are noticeably quicker but they aren't down to the efficiencies of ARM-based solutions yet and they don't have any brand awareness or any products in the market yet. They aren't moving to enable an app-store either which means there are no financial incentives for private or hobby software developers. [Note that Canonical, the company that runs Ubuntu, are working on, and have demonstrated, an Android application runtime module for MoblinV2]
Intel need a Tier One brand to get the product out into the market and they need to do it relatively quickly because the first ARM Cortex core devices are arriving and a lot of money is going into creating ARM-based platforms that also range from smartphone to smartbook. Computex 2009 highlighted that all the eyes are on ARM products and that their ecosystem has a huge momentum. Fortunately for Intel, the press are fickle. If they see something new and better, they'll be happy to report on it so it's up to Intel now to make a huge splash with a high-value brand using Moorestown to set a new benchmark in mobile computing. That might happen at IDF in September. If not it has to happen at CES in Jan 2010.
Full disclosure: I was at Computex as a guest of Intel.
Pages: 1 2