The ones that didn't make it to the list. (note that this is my list based on my requirements!)
iPhone 3GS. Expensive, no keyboard, no flash, difficult to buy 'off-the-shelf'.' I love what's happening in the iPhone ecosystem and you can easily argue that it's at the forefront of mobile software development but the hardware is not right for me. Frustrating!
HTC Touch Pro (Good CPU and screen) Not in the list because it doesn't have a keyboard.
Omnia HD Not in the list due to lack of keyboard. Interesting Cortex ARM CPU though.
Toshiba TG01 again, no keyboard but the 1Ghz Snapdragon processor driven device should be extremely fast. 4.1 inch screen too! An TG01 Pro with a keyboard is something to watch out for.
Nokia N810 (Good price) Not in the list because it doesn't include 3G. Social networking aps and cam is limited. Keep an eye out for a Maemo 5-based Nokia device soon.
OpenPandora (Good Price and CPU) Not in the list because it doesn't have a stable OS build and doesn't have 3G. Its also not available yet.
Palm Pre (Good CPU. Potentially good s/w) Not in the list because of screen size and keyboard
Blackberry Bold (Good keyboard hardware and software, platform) Not in the list due to small screen.
T-Mobile G1 not in the list because of exceptionally short battery life, poor camera.
Samsung Mondi. Definitely an option. No voice capability and 'old' ARM11 processor but big screen is attractive. No launch details yet.
Note that none of the above devices satisfy my requirements in full. Most of the CPUs are too slow for productive web-based applications and the screens are too small for WVGA resolution. 4.1 inch is entry-level for me. There's also no Adobe AIR or full flash 10 support on any of these devices which cuts out some very popular microblogging client software and online applications. Having said that, they are better than most MID options right now where Mobile Microblogging is concerned.
Click here for an interactive list of all the devices with specifications and links to info and images.
I have two 'winners' in my mind but before I mention them, let me say that the Xperia X1 is great value in Europe at the moment, the E90 (with one of the best smartphone keyboards) is too, despite its age. The N97, on the other hand, is very low on my list of choices based on what I've heard from bloggers. When it was announced last year it was exciting but now it's lost some of it's shine.
So the top 3 in my list are:
Acer M900. Big 3.8 inch screen will help with web. I like the style too. Fingerprint reader helps with the always-important aspect of security. CPU speed concerns me. Price unknown.
HTC Touch Pro 2 Very good looking design, RAM and positive blogger feedback about the keyboard. It doesn't have a high-end camera with flash though so my overall winner is the…
Samsung Omnia Pro based on price, camera, brand, the Windows Mobile 6.5 upgrade path and the 3.5mm headphone jack that you won't find on the M900 or HTC Touch Pro 2.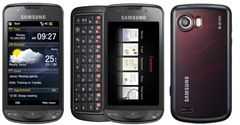 Based on that, I've already ordered one (Amazon, 460 Euros) and am looking forward to giving it some really hard mobile micro blogging and productivity testing. I've even gone so far as to start a new occasional blog. MyOmniaPro will be helping to keep the smartphone news down to essentials-only on UMPCPortal! All the details will be on the new blog.
What's you favourite Mobile Microblogging device? Do you agree with me or would you sacrifice the keyboard for more mobility? Are you sick of Windows Mobile? Does the software and community advantage of the iPhone outweigh some of the disadvantages?
Follow me on Twitter: Chippy on Twitter