Introduction Video from JKKMobile.
JKKMobile is also testing the Viliv X70 Premium Air. We're going to be running a live session with Q&A on the 11th June at 2100 CEST but here's his introduction video. We recommend viewing it.
Screen
The screen is a light-touch screen with a glossy finish which provides the best characteristics for scrolling around Firefox with the must-have 'grab and drag' plugin but it's not optimal for handwriting or annotations and the glossy screen isn't the best for outdoor use. Brightness isn't as high as on the Kohjinsha SC3 (which I regard as one of the brightest screens on any UMPC) but it's good. About the same as the Viliv S5. Note that the brightness and glossiness aren't perfect for outdoor or in-car use and running the 7 inch screen at full brightness will drain the battery quicker than on the 4.8 inch Viliv S5. It is possible to use the X70 in a car and the advantages of the large screen should outweigh the disadvantages of the glossy finish. Anti-glare screen protectors and high-contrast colour schemes can also help along with careful positioning of the unit inside a car. Viliv provide a screen filter as an optional accessory.
Viewing angle in the horizontal plane is good from both sides. It's viewable from below too but there's some drop-off in clarity and brightness when viewed from above and below.
On screen keyboard and haptics.
The on screen keyboard is well thought out. It's activated using the dedicated button (bottom left on the frame) and also uses haptic feedback. As with the S5, there's no word completion though and numerics are hidden under a 'Mode' button. Function keys are missing too. The X70 also has the same focus issue as the S5. Some applications push themselves (and their notifications) in front of the keyboard. You can see that in the video below.
CubeUI (as per Viliv S5)
The CubeUI software is an interesting application. At first it felt like a fun addition to the package but after a while we found ourselves turning it off in favour of the standard, and often quicker, XP desktop. We see where it could be useful though. It can house over 100 applications, shortcuts or bookmarks, includes an easy way to control BT and Wifi, a nice calendar and weather application and is easy to push into the background if you need to access raw XP.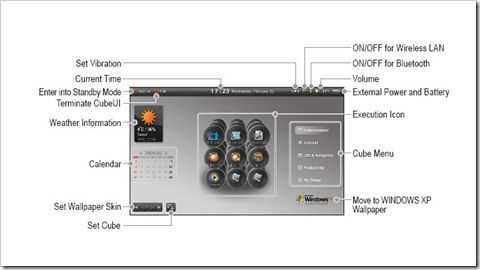 FastWeb Browser (not included in our version but likely to be in the final software build)
FastWeb is a touch-friendly browser which we believe is based on uZard by Logicplant. The UI is simple and easy to use but the browser itself is slow.  The reason is that Viliv have implemented a proxy server, in Korea (fastweb.myviliv.com port 7999.) For users in Korea this is obviously going to be a fast and efficient solution but outside Korea, its not. From our location in Germany, traffic was router over Amsterdam, New York, San Francisco and out through a series of routers in Asia resulting in 0.5 second round trip times. Apart from the potential privacy issues, its slow. Not recommended.
Additional Software:
I-Viliv update manager: No updates were found through this but we assume it will provide easy access to Viliv software updates.
Viliv Manager: A simple application for controlling Wifi, Bluetooth, 3G, screen brightness, vibration and enabling CubeUI to start on Windows boot. Most of these options are duplicated in CubeUI itself.
Music studio: A simple music player. Some controls appear in Korean and the application doesn't run in full screen. A basic application.
Viliv Player: Plays back video and, where possible, enables hardware decoding. See below.
Continued on next page…
Full specification and links to videos, images and other articles are all available through the Viliv X70 EX product page.