Several days ago I put up a post asking which device was most anticipated by readers of our site. 648 of your responded and I'm here to share the results. Take a look at the graph below: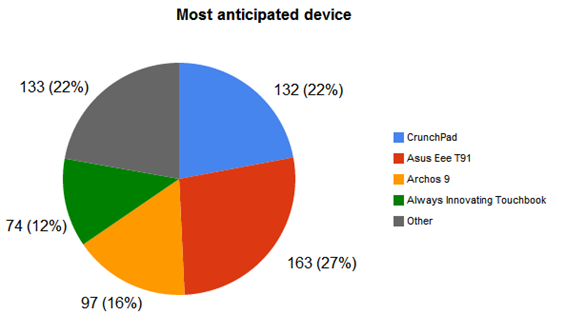 For readers who didn't have a chance to participate in the poll from the previous post, here is the list of devices which readers could have chosen from (click the link to be taken to the product's Portal page).
Crunchpad | Asus Eee T91 | Archos 9 | Always Innovating Touchbook
As I watched the results roll in, the Eee T91 stayed the leader for nearly the entire duration of polling. The CrunchPad came in second, followed by the Archos 9 and then the Always Innovating Touchbook. There was a good amount of 'other' responses. in fact enough to tie the CrunchPad for second place (I'll add more devices to the poll next time!). What I found interesting was that some people filled in the 'other' dialogue with existing devices, and some filled it in with devices that they would like to have, but might not be products at this point. Here is a short list of 'other' entries for existing products:
And a short list of 'other' entries featuring devices that don't yet exist:
Apple tablet
Archos 5 inch Android device
LG ultra mobile PC (this person must be old school!)
Next Nokia Internet Tablet (several people called this the N900)
Viliv S5 with keyboard
Interesting suggestions everyone. Thanks for participating in this poll. Its good to know people are looking forward to these devices. We have quite a few nice products lined up that we'll be reviewing for our readers. Chippy has the Viliv S7 coming eventually, and we'll also hopefully have our hands on the Asus Eee T91, and the Always Innovating Touchbook in the near future.