Keyword watching is a fun game that I play every now and again to make myself really happy that the ultra mobile PC keyword is getting news and coverage from all angles!!!  This morning I've been researching important keywords in the mobile computing sector and trying to come up with a list of what's hot. Here's my list based mostly on Google Trends analysis.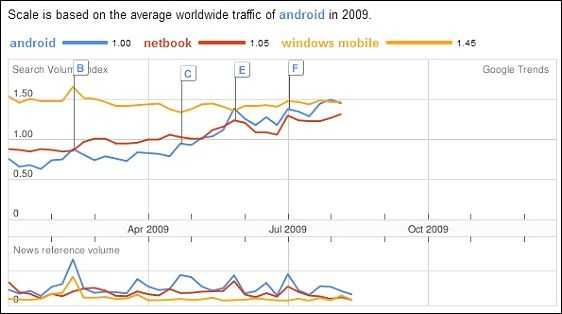 Android. Android appears to be one of the fastest growing keywords in the mobile computing segment. Query levels are as high as the term 'Windows Mobile' and have caught up and overtaken 'netbook' but where 'Windows Mobile' is no longer a growing term, Android has grown 200% this year alone. If you're in the mobile computing indistry, you can not afford to ignore this.
iPhone. With queries running up to 20x that of Android and Windows Mobile, it's a huge keyword to be paying close attention too. Leading a revolution in application sales. pocketable browsing and location based services, it's no surprising. Traffic levels have levelled-off for this expression in 2009 indicating a mature market.
Netbook. The number of new news items for the term 'netbook' has peaked but search traffic is still growing indicating that it's a healthy keyword and one worth tracking. News levels and search queries are slightly below the expression 'Android.' Search growth levels for 2009 are lower than for 2008.
Those are clearly the top three keywords relating to the mobile computing industry. One consumer product, one operating system and one segment but there's some other interesting stats out there.
Ones to watch. Moblin, Maemo, Chrome OS, augmented reality. All showing growth from near-zero search levels before 2009. 'Mobile browser' is showing an upward trend in 2009 and has surpassed search rates for UMPC.
Red herring: 3G – query levels are huge for this keyword but it's misleading. More than half of the searches for the expression 3G are actually for 'iphone 3g'
Declining TabletPC, UMPC, web2.0, pocketpc, eeepc
Flat but healthy: touchscreen, mobile internet, navigation, gps, windows mobile, symbian, intel atom
Difficult to analyse: MID. Searching for MID doesn't bring you very close to Mobile Internet Devices!
Our tip: Maemo. Interest in the keyword has tailed off over the last two years but we're expecting news on the 2nd of Sept at Nokia World and expect news and search levels to shoot up for this term as Nokia starts to use the OS in more and more products.
Would you add any keywords to that list?