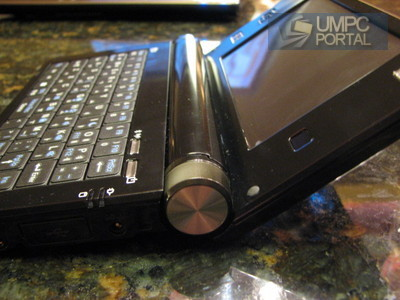 I know I can. You probably read my recent opinion piece on the UMID M1 that I've been testing. Among other things, I found the device to have some serious usability issues due to the lack of mouse and the unsatisfying keyboard. While not everything on the M2 is new (it might better be called the M1.5), it definitely tacks on some much desired improvements.
The M2 that Chippy got his hands on is just a prototype at this point and may change somewhat from when the product launches (targeted for Q4), but here is what we know:
optical mouse on the screen bezel as well as left and right mouse buttons, opposite the mouse (!)
1.2GHz and 1.6GHz Atom CPU options
1GB of RAM
New casing, opens to a further angle
No more proprietary USB adapters, there is 1x real USB plug on the right side of the device
Windows 7
Have to say that I think the new hinge looks more attractive than the M1's style, looking forward to seeing the M2 in matte as well. Here's to hoping that the keyboard get's some sort of upgrade before the unit gets finalized.