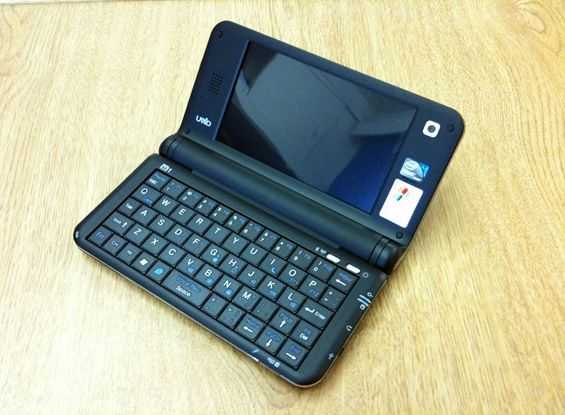 You'll probably recall that I got my hands on a matte black retail version of the oft mentioned UMID M1 a few weeks ago. In the initial unboxing, I noted that the build quality felt really good on the retail version. There were a few unsettling reports of some poor build quality on pre-retail models, but all of those seem to have been put to rest with the retail version finally sifting through to folks.
That's great and all, but a well built blending machine isn't going to bake good bread, is it?
I strive to find a viable use for the UMID M1 [Portal page] that isn't already filled by a much better gadget. I really didn't want to lambast the unit, it feels great as a device, but the moment you want to do something with it, there is a sense of "who the heck designed this thing and how did they expect me to use it? inch There are glaring design and usability issues here that I just can't deny, even if this is a pocketable computer that is capable of running a full desktop OS. It is clear to me that the designers of the UMID M1 must not have had a clear idea of who would be using the device, or what they would be using it for.
Keyboard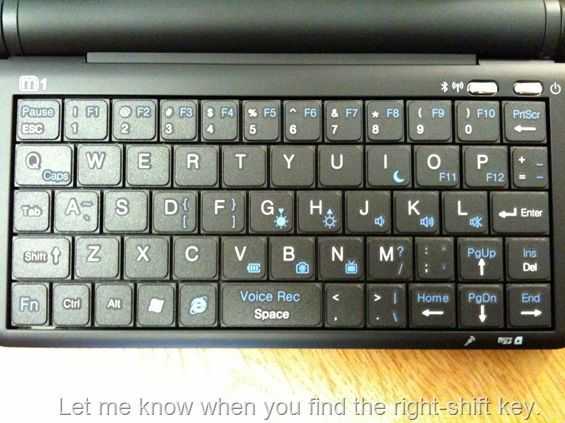 Aside from removing the keyboard all together, there aren't many changes you could make to the M1's keyboard that would make it worse. Before I even begin to explain, let me just set you up with a mental image: Skis on a car in place of wheels. Doesn't make sense? Exactly. That's what the M1's keyboard feels like to me.
The device is plainly small enough that it should have a thumb-board. What is even more ironic about this is that the M1 is actually spacious enough to allow for a great thumb-board. However, the designers of the M1 managed to find the perfect balance of FAIL. I see the keyboard as the perfect combination of thumb-board and touch-type keyboard – if you were looking to perfectly negate the strengths of both and exemplify the weaknesses.
The keyboard is designed with touch-type keys. You know, the ones you are used to regular laptop. They are super small, but have a touch-type pitch (the distance the key moves up and down). This means that thumbing the keyboard is very hard. I wish it was more easy to explain, but the short of it is this: because your hands are gripping around the sides of the device to hold it – your thumbs come in on a very flat angle relative to the keys from the sides of the device, instead of nearly straight down as they would on a standard keyboard. The touch-type pitch means that it is really hard to realize when you've actually pressed the keys all the way down. It is especially hard to hit the keys toward the center because you must stretch your thumb to reach, and this brings them in at a near 90 degree angle, making it close to impossible to press the key without pressing another key, and let alone recognize whether or not you've landed a proper press of the key to register input.
Ok so thumb-boarding doesn't work out, why not just touch-type? Unfortunately, I would go so far as to say that it is impossible to touch-type exactly as you would on a regular laptop using the M1. It is just too small. If you want to even consider touch-typing, you'll need to drop a few fingers that you are used to using. So let's say somehow you are comfortable touch typing on this thing. Great, now you run in to the next fail of design.
(continue reading on page 2…)
Pages: 1 2