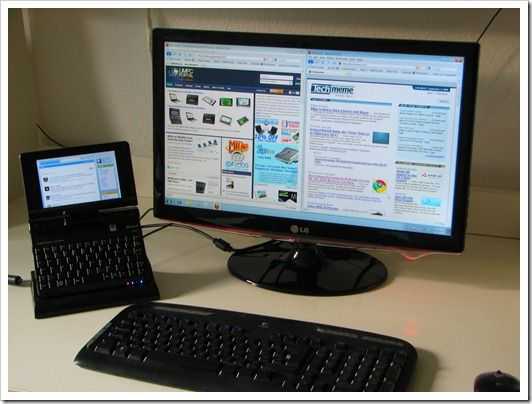 I'm sitting here in front of a huge 1920×1080 screen with a 1280×800 screen as an extended display. Windows 7 is running and I've got 10 Firefox tabs open, Windows Media player, Tweetdeck, Windows Live Photo Gallery, Windows Live Mesh, Windows Paint and Windows Live Writer running. (Love those Windows Live apps!) It's all running smoothly on the tiny Fujitsu Loox U (U820/U2010) in 1GB RAM.
The last time I was able to do this was with the 1.8Ghz version of  the OQO 2+  but it wasn't as smooth as this. Why?
1 – OS
2 – Fast SSD
3 – NoScript
Point 1. Windows 7 is better than Vista. No argument.  The second point is also well known. A fast SSD helps with program and file access. It also helps with swap files when, in situations like this, you've used up all your memory. I'll talk more about the (awesome) Runcore Pro IV that i've got installed, in another post. (Hint: 80MB+ max read speed)
The last point is something I've talked about before but can now highlight in a very very simple way.
With 10 tabs running on Firefox, the chances are that you're using a few heavy ajax or flash-based sites. It should be no secret that web browsing is one of the most CPU intensive tasks you can do on a device and even if you've got windows minimised, it's still using the CPU in the background.
Enter Noscript.
I've used Noscript in the past to optimise my browsing experience and there are other, more scientific tests that highlight the advantages but today, because of the dual screen setup I have here, the effect is extremely pronounced.These two CPU graphs taken over about 2 minutes of browsing, show the difference.
Before. Browsing websites. Hitting CPU limits. You can see the typical heartbeat of a flash animation.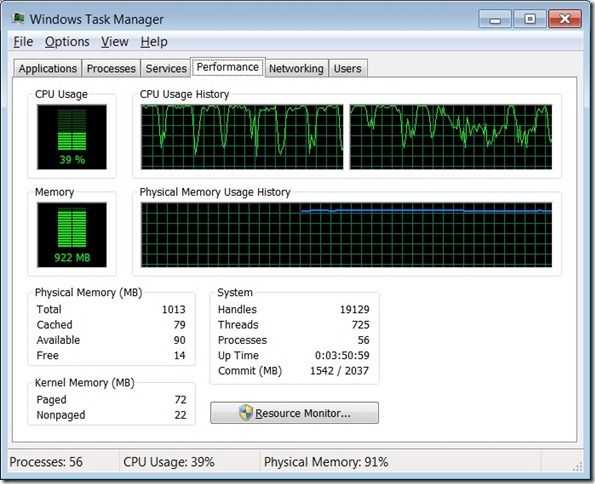 After. Browsing websites. CPU not hitting limits. Average utilization is much much less and that heartbeat has gone. A few more processes running in this test too.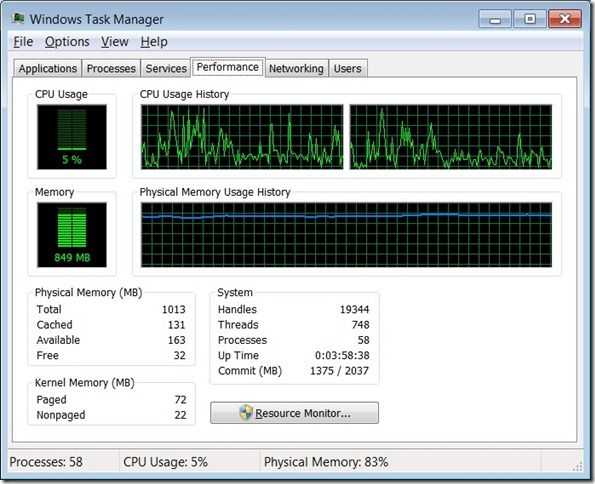 Side-by-side view:
The difference is huge, very noticeable and within 2 minutes of installing NoScript, the fan turned off. It's firing up every now and again but it's not pegged on like it was before. As I type this I have 12 tabs open, the Firefox process is averaging 4.5%. I've done tests like this in the past and seen the CPU averaging 15-20%.
Bloggers and advertisers will hate you for it but if you're using a UMPC, it's one of the best CPU/Battery life/heat/noise savers there is out there. And it's free.
Pause when minimised.
There's something else that can be learned from this. When using web-based applications, there is no such thing as a device in standby. ARM and Intel would do well to encourage desktop browser developers to enable an optional 'pause when minimised' feature (there's a reason that the iPhone doesn't multi-task) . It will have a huge effect on the mobile web experience. If it saves as much as I've just seen it would be more significant for the mobile web than a couple of years of technology development. I vote for Opera 11 to have this feature. Combined with 'Turbo' it would make Opera the best browser for mobile computers.