While we didn't get full details about Moorestown at Intel's Developer Forum this week, we did get a sneak peak, as Intel love to call it, into what Moorestown brings to the table by the chief architect himself, Shreekant (Ticky) Thakkar.
Most of it is summarized in a PDF issued to the press but there's also a set of slides to check out too. See SPCS004 on this content page. Unfortunately I wasn't able to attend the session but I've been through the documents and have pulled out some key features below.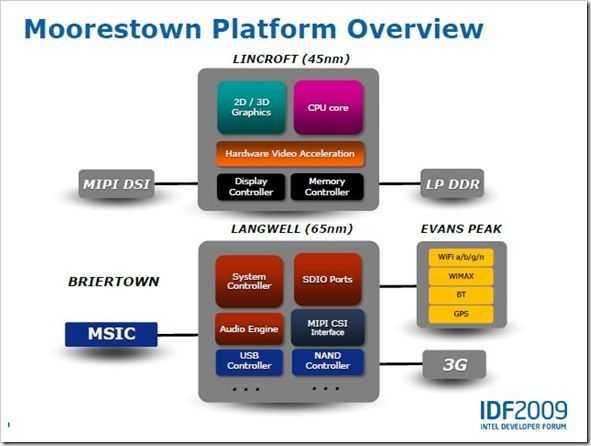 2x power reduction in use. In real terms we should see what I call 'on-net' active power drain (using the device) reduced to under 2W. With the smaller screen devices that will reduce further. This is about double what you'd see on an ARM-based device under similar usage sdcenarios but in terms of getting things done, should be much snappier.
50x idle power reduction. This brings, for the first time, a PC into always-on scenarios.
Hyperthreading capability. As we've experienced on Menlow, devices with hyperthreading feel faster.
Burst Performance Technology (BPT) Monitoring thermals to allow short-term bursting of the CPU clock beyond the design limit. Basically, as other parts of the Moorestown platform are turned off, there is the potential to increase clock until certain temperatures are reached.
Bus Turbo mode Allows the bus speed to be increased in line with CPU frequency scaling thus reducing memory latency and increasing bus bandwidth.
Active power management Turns off certain parts of the system when not in use. E.g. turn of video decoders when web browsing. Power management is controlled by a 'profile' system that identifies certain usage modes and turns on and off 'power islands' as required. Here's a thermal map of the system in a fully-on and controlled ('gated') state. This is something that may only be successfully achieved when using a Moblin-based OS.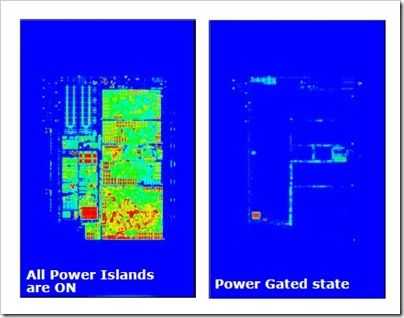 Through this technique we should be looking at 2x power reduction overall but in certain usage modes the effect will be dramatic. Standby, video decoding and audio playback modes will be vastly more power efficient. Up to 50x in standby more for example.
Briertown. This embedded mixed-signal analogue control circuit integrates functions that were previously found on descreet chips. DC-DC power conversion, audio, LED control, battery charging circuits. This module also integrates with the 'power-gating' process mentioned above.
In addition to the information released this week, we should not forget what we've learnt before. We're probably looking at a PowerVR SGX graphics core, hardware decoding video to 720p or even 1080p levels, hardware encoding of video and huge reductions in platform size (about 2x volume reductions expected in devices.)
CPU clock rates aren't known at the moment (expect SKUs to be announced in early 2010) and pricing is also an unknown factor that could affect OEM choices but I think that's enough information to be getting excited about for the time being.
Note: Moorestown could scale from smartphone to MID and ultra mobile PC scenarios, smartbooks and many other product categories. For a look past the technical specifications into what the Moorestown platform could mean for consumers, see this article.