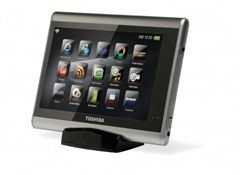 Much like the Pepperpad and SmartQ7. Much like the Crunchpad and EeePC keyboard much like the Archos range of media players, the Toshiba Journe Touch is a tablet aimed at the home zone.
Its not a ultra mobile PC (no productivity. Very little application flexibility) and until I see that its able to provide a full, fast internet experience (unlikely) I won't call it a MID. The sofa is a very forgiving place though; a place where the user is relaxed, open minded and under no time pressures. You can get away with slow browsing and input in these scenarios. I found that out myself.
Its focus is really media control and playback. Both in standalone and HDTV-docked mode. Apparently  the Journe will be able to play back HD content. I'm wondering if it's an Nvidia Tegra platform they're using.
Sascha gives us an overview of the device at the press conference where it was launched yesterday.
With Windows 7, home media control improves dramatically and with devices like the Archos 9 and Zune coming, it won't be a one-man race.