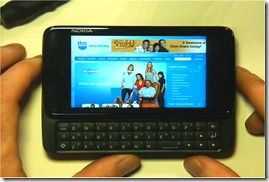 I have just been watching a very interesting video from the Adobe MAX 2009  conference. It's the Keynote from Kevin Lynch, Adobe CTO, who demos Flash Player 10.1 for mobile devices, smartphones and netbooks.
You get to see flash on Maemo, WebOS, Android, an unknown upcoming Android phone, an HP Netbook with Nvidia ION and a smartbook (Mobinova) running Tegra. There's also the HP Mini 110 running with its Broadcom Crystal HD module (which is interesting news from May that I completely missed.) The Broadcom solution is a PCI Express Mini slot-in module that offloads video decoding (no real 3D support here unlike the ION solution) and could be an interesting option for those with a spare PCI-Express Mini slot.
Anyway, back to the Adobe video. Check out some leveling of the Intel vs ARM playing-field below.
Don't forget that the CPU is still needed for Flash code operations and that it's only the H.264 video that can be offloaded to a co-processor. Running Flash code on even a Cortex based platform will still be a big task and will slow down your browsing performance and reduce battery life just as it does on the desktop. Even running flash on a 1.6Ghz Atom is a chore. On the other hand, YouTube fans should get better battery life from the hardware-decoded video.
Why doesn't someone make a Flash 10 co-processor? (Flashable of-course!)