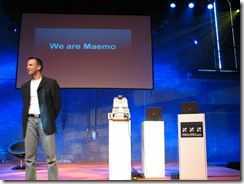 I'm in and seated at the opening session of Maemo Summit 2009. There are 400 people behind me just desperate to get hands on with the N900 and to find out more about Maemo. What a great buzz!
0945:
Peter Schneider. Head of Maemo Marketing will open in a few mins and then introduce Ari Jaaksi, VP of Maemo Devices for the opening keynote at about 10:30 (+30 mins) I don't plan to live blog everything but you'll get the  important announcements here. (While you're waiting you can read yesterday's post about the N900 and Maemo)
It's go! Video intro. Happy devs clapping!
Wow. At least 30% of the audience here have N900's in a show of hands. That's a lot of devices!
All presentations are being video recorded.
10:10 Ari Jaaksi now on stage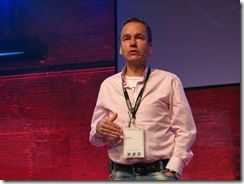 Ari going through a little history. 'I've been working with Maemo before it was cool.'
10:15
Maemo since spring 2005. Since 770 was launched. 'A goofy project internally' Ari references the Archos tablet I showed him yesterday and said that the expression 'Internet Tablet' is not used anymore! [Cry!]
N900 project name was 'Rover' – 'A Crappy British Car'  (Any Rover V8 fans out there?)
Ari shows a white 770 that didn't reach the market.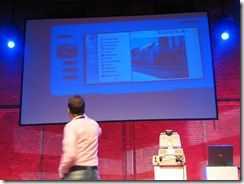 'Geeky' he sais.
Ari: Size becoming a more important issue, especially when 3G is involved. Maemo 5 UI evolution slide…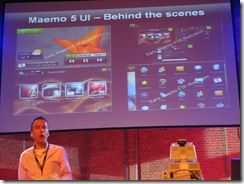 10:25 'The calendar UI looks like the engine of an Alfa Romeo.'
Does he mean beautiful but troublesome?
Ari: 'The best email device I've ever used'
On power management:
No longer an OS-level issue. It's an app issue too.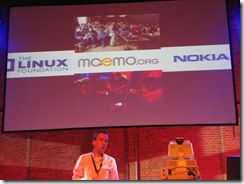 10:35:
Getting devices out is a 'staggeringly difficult job' Community, Maemo.org and Internal teams working in synchronization. 80% of code comes from open source communities. Ari says that it would not be possible without that.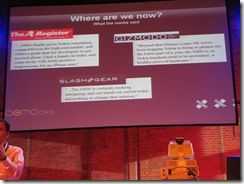 Nokia were surprised at the response to the N900 from the wider community.
Ari accepts that there are things to do…
Portrait Browsing will be an upgrade before end of year.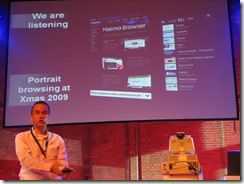 Multitouch 'We need to work on that. ' In this hardware they can't do it.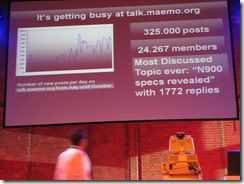 Ari invites everyone to 'be opinionated' on Maemo.org
Annouced: Pre-production version is reserved for each person here today. 6 months loan. BIG claps! Looks like we won't get the devices until after the event.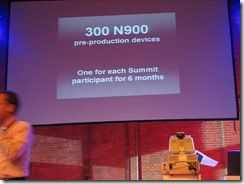 Ari finished. Jim Zemlin, Linux Foundation now on stage.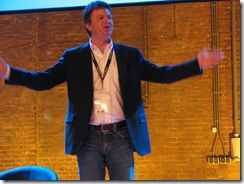 Jim's' favorite Linux use case:  (Slide of the SNES emulator on N900)
Talking about the economy. Says it's good for Linux.
Second trend: Helping: Convergence.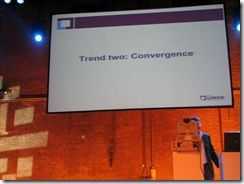 Slide set about convergence…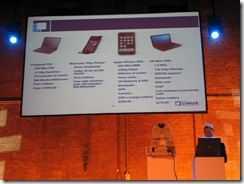 'Its all coming together'
My opinion: Physical issues won't go away. (Most) people will buy multiple devices, not totally converged devices.
Jim is talking about the economic model which starts with MIDs, Netbooks and Nettops.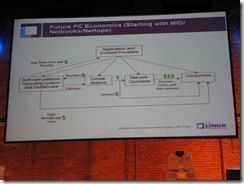 Jim: App stores will change the way the PC industry works and that is why Linux is going to win. Why…people can create their own app store. No licensing needed. More flexibility. [I totally agree with this]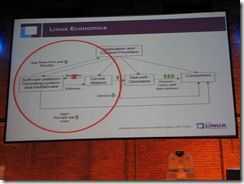 Trend Three: We're moving to making money from services and not software sales or hardware sales.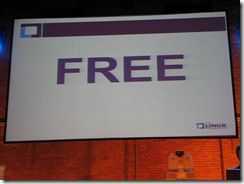 My opinion: There's going to be a psychological problem with multiple (tens of) recurring payments to service providers. Carriers need to wrap these up in nice packages to hide the worry from end-users.
Jim: We need to prevent Linux fragmentation. Devs need to send code back upstream.
Jim also talks about the LSB (Linux Standard Base) and the need for standardization.
Challenge: Legal Issues. Jim encourages people to check the resources available: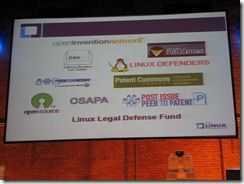 Testing needed. Test, test, test! Jim highlights again the need to pass code upstream.
Finally: "We can be free and fabulous. Lets teach Steve Jobs a lesson…. inch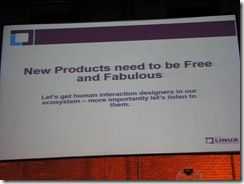 Jim wrapping up now and that concludes this post. More later and lots more when I get my N900. Live session will be set up as soon as I have the device. See you on umpcportal.com/live soon!