Back in May, I took a look at the small screen PC market to try and determine the distribution of screen sizes. I did the same in September.
Today I've been through the figures again and the same trend continues. There are less sub 10 inch screens on the market and far more 10 inch and 11 inch devices. I'm still ignoring the 12 inch sector but a quick glance reveals that that sector is growing too.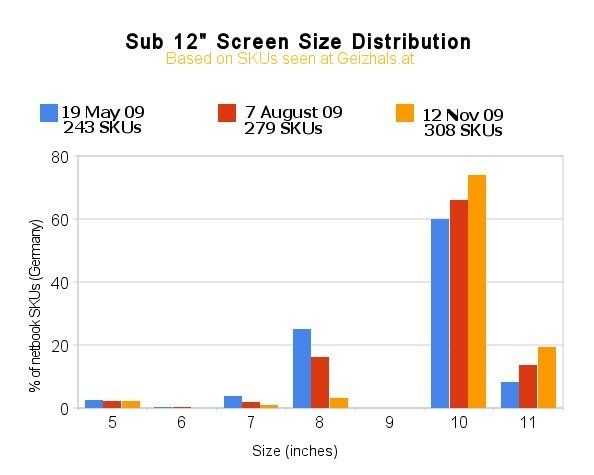 The 10 and 11 inch screen sizes now make up 93.5% of the sub-12″ devices in the German market.  Nearly all of these are netbooks.
The 11 inch segment grew another = 43% (The segment has doubled in just 6 months)
The 8 inch segment is down by over 80% in 6 month.
The average weight is still increasing.
The number of devices is up 26% in 6 months.
The cheapest device is 151 Euro (down 9 Euros in 2 months.)
Once again it's sad news for those wanting ultra mobile PCs but good for those wanting cheap laptops.