I'm not sure how many of you will remember the original Carrypad Journal that I started nearly four years ago. The name was based around a dream device I was looking for at a time when technology was nowhere near ready for me. A consumer-focused 5-7 inch device with a mobile-focused processor, dedicated software and providing quality web access. 'Its a device for these locations: Sofa, Bed, Coffee Shop, Car, Train, Plane' is what I said at the time.
Just days after launching my blog, 'Origami' happened and six-months after that I left my job and went 'pro'. The site evolved into Origamiportal and UMPCPortal and focused on a professional level of mobile computing experience based around desktop operating systems and the 'FIE'. The site always kept an eye on the consumer mobile internet device segment though and as we reach the end of 2009, the segment is starting to gain serious traction. Momentum is building for low-cost consumer-focused internet-connected hand-held devices. Media tablets, web devices, e-readers, navigation, internet communications and microblogging devices. Prices, technology and mobile-focused operating systems are finally allowing this segment to take off. I'm confident that over the next 5 years we'll see a new segment of internet-connected hand-held 'gadgets' appear and because of this, I have been preparing Carrypad.com as a consumer-focused portal for hand-held internet devices.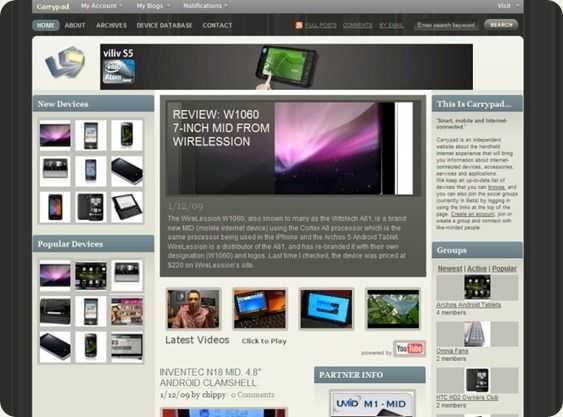 Smart, mobile and Internet-connected.
"Carrypad is an independent website about the handheld internet experience and will bring you up-to-date information about devices, accessories, services and applications. inch
That about sums it up. The team (including some new members that we'll welcome in more detail over at Carrypad) will be following the news, writing reviews and attending the important shows. We'll be running a sub-section of the successful product database hosted at UMPCPortal and rather than setting up a forum, we'll be testing out a new community section based on 'BuddyPress.' Simply join Carrypad and connect and communicate with other like-minded people. You can also set up groups to exchange tips, hacks, help and news around particular products. We've even got the ability for people to set-up and run their own blogs, for free!
The site was completely hand-worked by myself between writing articles and there's still some work going on to skin the member area and enhance the product database. That will happen over the next six months but for the time being, Carrypad is open, stable (i think) and ready to welcome you. Please add Carrypad to your bookmarks and reading lists, join-up, follow Carrypad on Twitter and lets have some fun as this consumer-focused mobile internet 'thing' happens.
Thanks to the team, thanks to all the UMPCPortal reader and welcome to a new chapter in Chippy's mobile world!
More information and questions answered on the next page…
Pages: 1 2