New information released by Intel today includes release date, sizing and power efficiency details. There's still no information on the GPU and the CPU is largely unchanged.  Don't expect major real-world improvements.
It seems like we've known about Pinetrail for a while but at least most of the details are being confirmed in the latest Intel Press Release now.
You're going to see a lot of news about this over the next few weeks and an incredible amount of hype through netbook-related PR as companies combine this new platform with Windows 7 and a CES launch to try and sell you a completely new netbook experience that it likely to be similar to the last one.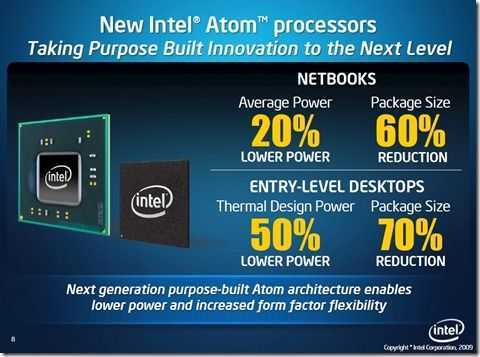 The new Atom N450 CPU with integrated GPU and memory controller runs at 1.66Ghz with 512K of Level 2 cache.  Memory bus speed goes up to 667 Mhz from 533Mhz but what does it really mean?
Power.
This is the keyword you're likely to hear the most. Power means two things. 1) Power usage. 2) Processing power.  According to Intel, average (we assume platform) power usage has been reduced by 20% which means an improvement of 5% or less on a netbook. It's a minor change. In terms of processing power, expect 10% improvements based on the new memory architecture and a slightly increased bus and clock speed.
Design.
The new Intel Atom netbook platform has been designed to reduce size, allow for easier thermal design and to reduce the cost. By moving from a three-chip solution to a two-chip solution and implementing the graphics core into the same die as the CPU the amount of silicon used is less. Silicon size is down by 60% according to Intel.  Not only will the cost of the platform be less, the cost of designing a netbook around the platform will be less. Designers will not have to include a fan and will have to worry less about passive cooling. Less space is required on the motherboard too.
Cost improvements are not likely to filter through to end-users at this stage so don't expect any price drops.
HD video.
There is no support for hardware decoded video on the new Intel Atom Netbook Platform meaning that it doesn't use the GMA500 GPU that we were expecting. Although details have not been confirmed, it is highly likely that the GPU will be the GMA3150 core as seen in some D510 CPU-based motherboard specifications. HD decoding was not included in the previous Intel netbook platform but as internet video becomes more important, we see this as a significant limiting factor for end users.
3D Support
Moving to a new GPU core means new capabilities. Details on the GMA3150 are very thin at the moment but real-world tests using 3Dmark06 indicate similar results as with the GMA950. Some basic support for DX10 is expected.
Target Market.
Indications are that Intel are being very careful to target the Netbook platform well away from their other laptop platforms. Marketing material talks about 7-10.2 screens and an 'Internet' focus. Netbook manufacturers are likely to ignore this though and we should see 10-12 inch devices with a range of features. The Broadcom BCM70012 HD video module and Nvidia ION GPU will be important options and likely to be used for up-selling.
Mobility.
With a TDP of 7W (down from around 14W including chipset) and a much smaller silicon size it should be possible to make some extremely thin and light mobile computers with this solution.  Menlow still retains better power (energy) characteristics and includes HD video support but the cost of the new netbook platform might make it interesting for some 7-10 inch mobile computing devices running Windows 7 or Moblin. The new platform won't be interesting for MID development. Moorestown includes better integration and the new 'power gating' feature which is needed for always-on operation in the MID world.