The N450 is the new Intel Atom-based chip that will be used for 'Pineview' netbooks in 2010. Many of you have heard about the new 'leaked' netbooks over the last few weeks and although it's focused at netbooks, we think there is some scope for some relatively powerful ultra mobile PC designs using the N400-series silicon. To that end, we've been following the news closely.
The N450 integrates the GPU and CPU on the same die and there have been some questions over the capabilities, especially in the area of video decoding. The technical documents that are now available make it clear. There is no H.264 or WMV decoding on board and no support for digital monitor outputs. MPEG2 decoding is supported (useful for DVB and DVD standards) but that's about it for video. So its certainly not a GMA500 core. It's Intel technology through and through.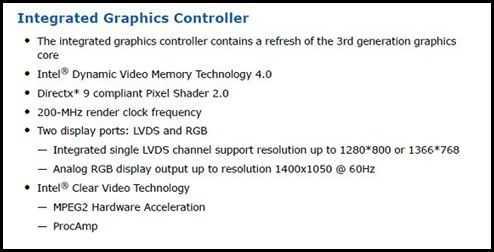 One thing we can clearly state now is that you won't be watching HD-quality Flash videos on a standard netbook. Even when Flash 10.1 is released, there's simply no decoding hardware for it to use. This leaves a big gap for Nvidia and Broadcom although if Intel get their act together with Moblin, the higher-clockrate Z200 Z500 series CPUs might be an option for video-focused netbooks.
For all the technical details, check out the N400-series PDF here.