Looking quite sexy and with a brain to match, this is one pad we'll be keeping a close eye on when we go to CES in Jan.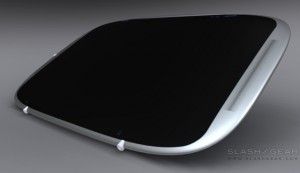 It's a large, 10.1-inch 1024×600 device running Android on a Nvidia Tegra T20 platform and has some really noteworthy features.
Pixel QI screen – Lower power. Better outdoor readability.
3G
A-GPS, Compass, ambient light and water sensor.
HDMI out
3MP AF camera.
You won't see that lot appear for under $500 but even if it's $600, it would make a very interesting home-to-office device. 10.1-inches is a little too large for our liking and the 1.7lb weight means it's a two-handed device but this is definitely an interesting product.  It reminds us of  the 'Haiku' Microsoft 'Origami' concept of 2006.
The Tegra T20 is unknown to us at the moment so this could also be something that will be announced at CES. Information available at the moment leads us to believe this could be the next-generation Tegra platform. We're wondering whether this could be a multi-core Cortex A5 implementation; a natural progression path from the multi-core ARM11 that Tegra currently uses.
Notion Ink Tegra Android smartpad uses Pixel Qi display – SlashGear.