There's some news out this morning that Samsung will get into tablet PCs next year. They seem to forget that Samsung is already selling Tablet PC's! I was going to write a short article moaning about the hype and the fact that this subject seems to come up every year but when I checked up on some Q1 Ultra prices I decided to do a promo piece instead. The Samsung Q1 Ultra, 7 inch Tablet PC with 5hr battery life, 1024×600 screen and weighing just 840gm is available for just £359 in the UK.
[Yes, this article is an infomercial now, I will get some money if you use this offer, but it's a very good offer and comes completely unplanned.]
The Q1 Ultra is a 7 inch touchscreen tablet with integrated mini keypad, an excellent, bright, 1024×600 resistive touch screen, the 800Mhz Intel Stealey processor (comparable with a 1.3Ghz Atom) with the GMA950 GPU. There's a web-cam, [note: no BT too] excellent stereo speakers, a stand, 40GB HDD and in this case, the XP Tablet Edition (Pro+Touch) operating system. Two years ago we were looking (and paying) about 1000 Euro for such a device. I bought one (why?) and even managed to upgrade to SSD and 3G making it a fantastic package. Even the battery life was good. At 5hrs with the extended battery, (7hrs quiet-state) it proved that Samsung had done an excellent engineering job. I would still be using mine today if I hadn't blown it up in a solar charging experiment.
Really, honestly, I think the Q1 Ultra was the best tablet ultra mobile PC ever. Only the Viliv X70 beats it now.
I'm starting to sound like a QVC salesman now but you have to believe me when I say that I nearly spit my coffee all over the monitor when I saw it on sale at Expansys for 313 pounds (360 pounds inclusive tax 400 Euros today) with the 6-cell battery pack as standard. There don't seem to be any 'gotchas' here at all. This is the full version of the Q1 Ultra.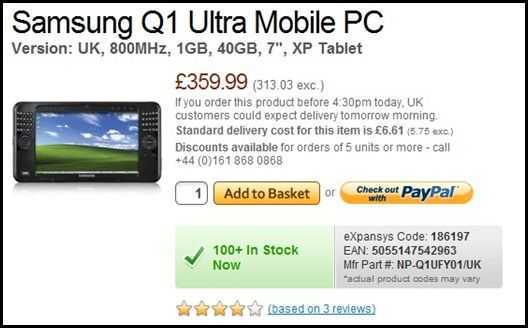 [Click on the image to use my affiliate link]
This is a great deal for Europeans and I encourage anyone who's on the fence about a TabletPC to check this one out. The Q1 Ultra will work well on the sofa, in the office (second screen using Synergy is great) in the car (car mount is available) and should (I haven't tested) work with Windows 7 tablet features. Jolicloud should install too.  RAM can be upgraded to 2GB. It includes rotation for book reading (although the unit is a little heavy for that.)
The Q1 Ultra has been on the market for over 2 years now but it's still a great device. I can't say I'm not looking forward to a new Samsung Tablet PC but the Q1 Ultra is still a valid choice.