Over the last 3+ years I've spent a rather embarrassing amount of time analysing battery drain on mobile computing devices. It's become a specialty of mine to look at a device, look at the battery size and then estimate real-world battery life figures for certain usage scenarios although in the netbook world it really boils down to a simple equation take 30% off what you see on the specifications.
In the world of smart devices (computing and communication devices based around the ARM architecture) the equation is slightly different and as we move to ARM based tablets, pads and MIDs the equation gets even more wobbly because these devices can idle down to near-zero drain rates. Take the 300+hrs standby figures you see on some phones for example. With a 5W battery, that's a drain of about 16mw, which is 100x less power than even the most efficient of PC-based mobile devices in idle mode.  The problem is, however…
There's no such thing as idle.
The days of 'standby' are long gone as even the most basic of phones are able to play music, access 3G networks, present information on backlit colour screens and run simple background tasks like alarm and event monitoring, location services, email polling and more. Move to a smartphone scenario and that 16mw idle figure is irrelevant. When I tested my N82 a few years ago I was shocked to find out that it could suck 9 batteries dry in a long day of heavy use.
I re-charged the device fully and did a static test using the same apps. Music playing, live GPS tracking (I use Nokia Sports Tracker) and IM via Gizmo. I left the device alone and didn't use it. After 110 minutes it switched off indicating a 2.1W average drain from the 3.7wh battery. [Source]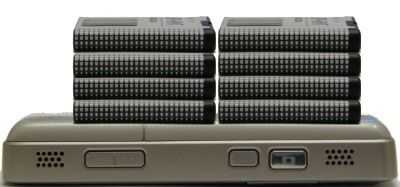 Today I installed an interesting app on my N82 and confirmed those findings of nearly two years ago. Using the awesome (for geeks like me) 'Energy Profiler' for Symbian Series 60 I lay in bed for about an hour testing out various scenarios. Sure enough, the phone idled down to about 200mw and by simply streaming some music over 3G the figure shot up to 1W. Turn on GPS via the map application and crank up the volume and the device was using over 1.5W. Just cranking up the audio volume added 20-30% power load on the device!
The CPU is out of the equation
Last week at CES Nvidia announced Tegra 2. It's one of the most powerful ARM-based processing platforms on the planet. Think 2-4 times more CPU processing power than even the fastest smartphone out there right now. It's amazing and exciting, especially when you known that the CPU cores only take around 400-600mw under full load. Once again, this platform can idle down to an almost frozen state. The platform is slightly too big and power-hungry for small smartphones at the moment but expect to see this in high-end media and internet phones and upcoming tablets and MIDs. The 4-10 inch screen range.
When you get to screen sizes of 4 inch and above, something happens that levels the playing field for Intel somewhat. Their CPU platforms (*1) don't idle down very well but in a typical 'internet-connected' scenario on one of these 'smart' devices, that becomes almost insignificant as the screen backlight adds such a huge load to the platform that when combined with Wifi, 3G, BT, GPS and audio, the CPU is just 10% of the total load. Swapping Intel out for ARM would save you just 5-10% battery life in an 'active' scenario.
Active standby
I'm a big fan of low-power computing and I understand that that most people won't be using a device all the time so there's a distinct advantage to use and ARM platform over a current Intel platform (*1) but usage models are changing and it's now common to find people picking up a phone to use it once every few minutes and when they're not using it, the GPS, Wifi, 3G and audio is still running. Simply being 'connected', polling the internet is going to mean that your device is going to be using 500mw of power on average. Standby is now an 'active' or 'on-net' experience.
Extreme Battery life marketing
All this confusion and range of figures is great for marketing teams. The 'all-day' connected' expression will be used a lot along with a lot of talk about standby battery life of 'days.' Forget it! The average 4-10 inch tablet device will be using an average 1W to 2W per hour. Leave the screen backlight on along with a few flash and ajax-filled browser tabs running with a 10 inch slate and you're in the 4W range. The 10W battery that would fit comfortably in such a device suddenly becomes a 2.5hr battery in that scenario.
Warning
You will hear a lot of battery life BS over the next year. Silicon manufacturers are in a truly critical fight to win in the new 'smart' devices market and as a result, they will use every weapon. BE AWARE that as devices get more fun, connected and dynamic, you will use them more and battery life will drop like a fly. IGNORE manufacturers battery life claims and wait for independent reviews. That's what we're here for!
Related articles:
How long does your smartphone last in 'MID' mode?
How big is an 'all-day' Mobile Internet smartphone?
(*1) The upcoming Moorestown platform brings a whole new power control architecture to the table in late 2010. More analysis on Moorestown here.