The Archos 5 Internet Tablet is already a great bit of kit but if you're looking something a little bit bigger, more sofa friendly and with a few more features a 7 inch version makes sense.
Data-mind.co.uk, a wholesale distributer for Archos products has a new Archos 7 Android listed in their catalogue for an amazing 127.65 UK Pounds. (Trade price, before tax = about 200-250 pounds retail price.) If the Apple tablet appears for around 600-pounds (we'll find out later join me at UMPCPortal.com/live for chat), it better have something extremely special on board!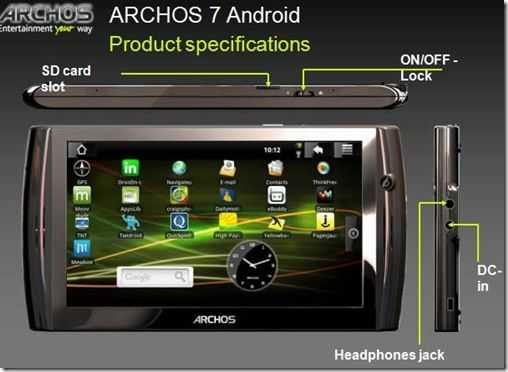 Obvious enhancements are stereo speakers, web cam and CD-input. An 800×480 resolution isn't as high as it could be but is still going to work out well for the Android operating system (and means Appslib devs don't have to make two versions of Android apps) and will make web sites and ebooks a bit more comfortable to read. Thumbing the on screen keyboard will be easier in portrait mode but more difficult in landscape mode.
Size-wise we're looking at a very light and slim 203x107x12 mm which is going to be maybe 100gm more than the original Archos 5 Internet Tablet. Under 300gm!
We assume that the platform is the same Ti-OMAP 3-series delivering that same good experience as we see on the Archos 5 (full review)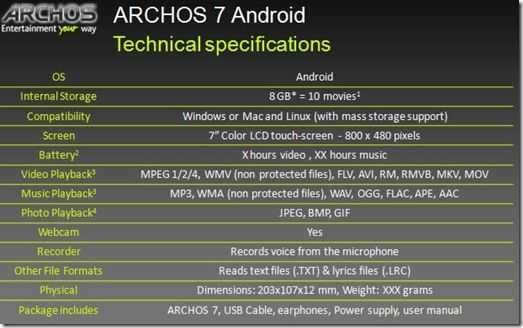 Yes, this could be a fake but it makes so much sense for Archos to push out a 7 inch version that even if it is a fake, I'd expect it to happen soon anyway. That just leaves a 3G version of the A5 (with slider keyboard please!) and then Archos will have one of the most interesting range of 'smart' devices yet.
Hat-tip to JKK. Source: ArchosFans.