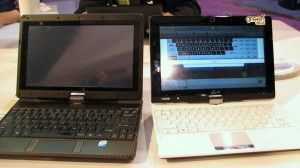 Like the Lenovo S10-3T and Viliv S10 , the ASUS T101MT is a 10 inch convertible netbook with a multitouch screen. The T101H is based on the Pinetrail platform with the N450 CPU and GMA3150 GPU but, like the Lenovo, the base version only comes with Windows 7 Starter and 1GB RAM. The high-end version comes with Windows 7 Home Premium and 2GB of RAM that can be upgraded to 3GB. A 35Wh battery should keep the device going for about 4 hours.
There still doesn't appear to be any information about availability or price but as I mentioned in the video, now that Windows 7 and Pinetrail is here, there shouldn't be any major delays now.
Full specifications and links are being tracked on the T101MT product page.