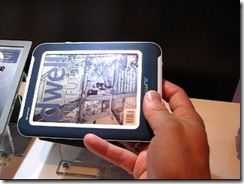 Before you watch the video below, take a look at the video I shot of the Entourage Edge at CES. It shows a dual-screen reader with E-ink/E-paper and traditional LCD technology. It's huge, heavy and will be expensive to produce. There's no reason to have two screens apart from a comfort factor (it looks like a book) and to get round the limitations of LCD and e-ink displays. The latter problem, as I suggested in the article, can be solved by using a dual-mode screen; that is, one that can be used as a high-refresh-rate transflective display using ambient light and as traditional back-lit solution.
Qualcom's offering is the Mirasol display technology which, like the Pixel Qi technology, offers an amazing experience in ambient light without the need for a backlight. The difference between the two solutions seems to be that Pixel-Qi is a standard LCD screen offering high refresh rates but only a black-and-white ambient light experience. The Mirasol display has a lower refresh rate but offers color in the ambient light scenario. Refresh rates on the Mirasol technology don't appear to be good enough for a smooth HD video experience (I'm guessing we were seeing about 10fps in the demo) but for the 'snacking' that many of us do when browsing and reading magazines, it seems perfect. I'd love to see a Snapdragon-powered version of this as a home browser, music player, book reader and maybe even car navigation device.
The days of the dual-screen as a workaround for the limitations of e-ink and traditional back-lit LCDs are numbered.