Thanks to the great crowd at DevMob2010 in London last week, I've had some good feedback to my scenarios and segmentation diagram which was originally created in 2006 and is now updated and re-published under CC license. It should help as a stimulus for software developers thinking about the possibilities in the space between smartphones and netbooks and can help device designers to think about usage scenarios. Customers will also find it useful to pick out their own usage scenarios and to see what type of device fits with their requirements.
FEEDBACK IS ENCOURAGED. If you have thoughts, please add them to the comments section below.
During my session at DevMob I had a set of suggestions which I've added to the diagram. It was interesting to hear suggestions for the 8-10 segment which included Multi-touch/User gaming (many players, one device) and multi-person video viewing. Those are two models that the iPad is targeting very closely. We also added 'Media Overview / Chooser' to the 8-10 segment based on the need for screen space for an overview of images, album cover art or video's.
Many thanks to all that took part in the sessions at DevMob and thanks to all of you that took the time to present and talk about your ideas in this space. I hope to see you all again at the next DevMob2010 and at other events in Europe.
The diagram (V2.0) is available here (PDF)
Notes are shared in a Google Document here.
Update: I'm experimenting with a slightly different layout based on feedback below.  The segments have been re-drawn to represent a more fluid crossover point.
V2.1 diagrams are here.
PDF: https://www.umpcportal.com/downloads/devicesegments-V21.pdf
JPG: https://www.umpcportal.com/downloads/devicesegments-V21.jpg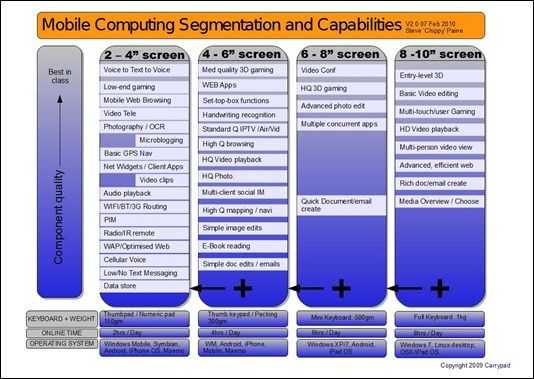 Click for full size jpg image.
Thanks to Intel for sponsoring my trip to London for DevMob and to the Soft Talk Blog team [twitter] for their assistance.

Mobile Scenarios and Segmentation by Carrypad is licensed under a Creative Commons Attribution-Share Alike 3.0 Germany License.