The 9 inch screen size may seem strange to some but that 1024×768 screen on the iPad combined with its 700gm, 1.5lb weight enables three key features. Long-term use, high quality and multi-user capability.
Based on my ever-evolving 'Mobile Computing Segmentation' diagram and  with recent input from DevMob 2010, I've put together a list of applications that would sit well on the iPad [Specs and latest info] and you'll see the three features I've mentioned drop out straight away but before we start, here's the diagram which gives you some idea of the applications that won't be unique to the iPad and may be more suited to other form factors.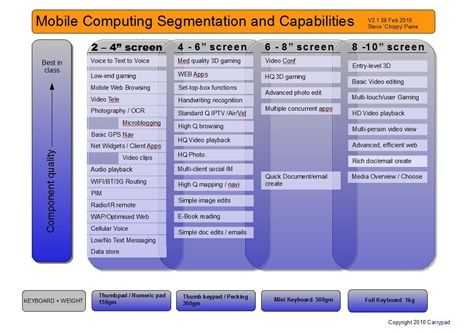 Click to enlarge.
Clearly there are applications like PIM, Voice and video telephony that would be better on a smaller device and if you were to take a look above the iPad, productivity rules but there are some distinct categories of applications that would work well on the iPad…
Entry-level 3D video. Screen real estate, high-bitrate video capability and screen resolution is required for 3D and for the 1-meter experience, the 9 inch iPad will  be the best device for it.
Basic Video Editing. We've seen some excellent video editing packages on the iPhone. I'm blown away by Reel Director every time I see it but there's something missing from that. Getting accurate cuts, high quality preview and having more information and drag-and-drop capability is something that only starts to happen on a larger screen. I can't wait to see a version of Reel Director for the iPad.
Multi-touch gaming. Multitouch with one hand is something. Having two hands to control a playing field is something else. Devices of 7 inch and above can start to offer this experience although the iPad needs a stand to really get the best out of this possibility.
Multi-person gaming. Two-handed multitouch doesn't have to be done by one person. 9 inch allows two people to sit on the corner of a table and play with each other. Board games, arcade games and more. This multi-person aspect is unique to large-screen multi-touch devices.
Multi-person video/photo view. Think about the 1 meter viewing experience. Now think of two or three people sitting next to each other at 1-meter from the screen. For this experience to work well you need size and screen viewing angle. The iPad is set-up perfectly for this as it uses IPS screen technology that improves screen viewing angle. (IPS also improves brightness which means the iPad will be the only device of this type that can be used outdoors. Anyone for World Cup football on the go?
Page-per-view documents. At 7 inch screen size it's very difficult to view pages of documents as they were created (books, diagrams, comics, presentations) without have to zoom and pan. At 9 inch page-per-view becomes a reality. Magazines, comics, newspapers and documents viewed without zoom or pan become more immersive. We'd argue that 11 or 12 inch would be a more comfortable size for such a usage model but at that size you increase weight so much that the device becomes difficult to hold.
Rich, long duration web experience. The minimum width for a full web page is somewhere around the 800 pixel mark. On a 7 inch screen this requires relatively high pixel densities which can require a zoom to make text comfortable. The 768-wide (in portrait) screen of the iPad is going to be better than most 10 inch 'wide' screens in portrait mode. The pixel density is of around 132 PPI will be extremely comfortable for almost everyone. (Think every member of the family.)
More iPad specifications and information in our iPad tracking page.
Rich document / media creation. While text input may not be perfect on the iPad, Titling a media-rich post of video, photos and diagrams will work very well. The 9 inch screen size allows for a workspace, a toolset and a media bar for dragging and organizing media segments in a posting, email or microblog. Smaller screen sizes make this a tough challenge terms of UI.
Media organization. What did you do when you sorted your postcards/beer mats/toy cars/cassettes/photos when you were a kid? The likelihood is that you tipped them out on the floor and started from there. The same principle applies on the iPad. You'll have enough screen space for an assortment of overlaid documents, contacts, images, videos, books, music, figures and a set of bins/playlists/groups into which you can drag your content. Personally this sounds like a dream come true for sorting a library of digital photos.
Mapping. Electronic maps require resolution, size, outdoor readability, ruggedness, battery life and can be enhanced with connectivity and GPS. I am struggling to think of a more suitable device than the iPad.
There are more scenarios too and if you've got a thought, drop it in the comments. How about customer presentations, DJ applications, pilot applications, home control, multi-person video conferencing/PIP not to mention making every iPhone application into a high-quality version. Tamagotchi on the iPad will be so cute that you will have to buy two!
The themes here are 1) long-duration usage (comfort), 2) quality (more definition, capability) and at the top of the list and what I believe is the main 'feature' – the iPad allows (relatively rich!) Dads around the world to justify a Christmas 2010 purchase Multi-User. Forget the HD-TV, Blue-Ray player, Car seat-back screens, coffee machine, Wii because top of the family Christmas present list this year will be the "we can all use it darling. inch iPad.