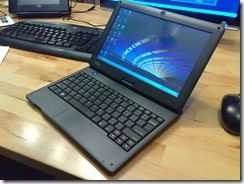 Viliv are just a short time away from releasing the S10 into the wild and we've been lucky enough to receive one of the final samples before it goes into full production. As you'll see in the video there's no retail packaging but the S10 is there and in this 14 minute video I unpack and demonstrate the device.
The S10 was shipped with Windows Aero on and I'd immediately advise any one else testing an S10 to turn that off. It causes a serious slowdown in UI responsiveness.
Overall, the S10 is living up to expectations with good build quality, fast SSD (I'm very happy with initial test results and system and app startup responsiveness) and great 3G reception. I am personally still searching for the ultimate multi-touch use case when the multi-touch mouse pad is easier but that's something I'll be working on. I'm a relative newbie when it domes to multi-touch.
More information including specs and links in the Viliv S10 info page.
Update: As I test I'm putting notes in this forum thread.

On Monday evening at 2100 GMT+1 JKK and I will be doing a live, open review of the Viliv S10 so come along and see how it performs. We'll be at https://www.umpcportal.com/live