Once again we had a great audience for our live open review last night. Over 600 people dropped in to watch JKK and I testing out the Viliv S10 in an extended, close-up, warts-exposed review session.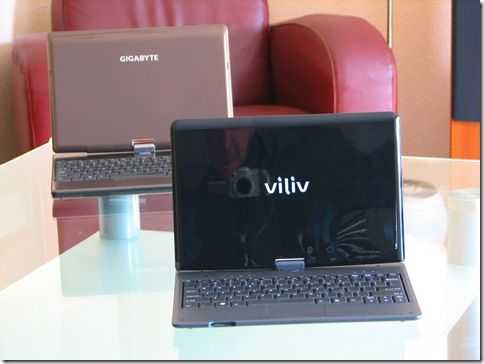 We recorded two videos from the sessions which are up at Ustream.TV (I'll try and get these over to YouTube soon) but as a summary, let me go through some of the things we found out.
Hardware: Both of us are very impressed with the build quality, plastics and styling of the S10. It beats every other convertible 10 inch-er out there.
CPU differences: The difference between the 1.6 and 2.0Ghz version is of course noticeable. The 2.0Ghz version is much smoother in general operation and the difference was very noticeable when we compared the use of Microsoft's Surface demo software. The 1.6Ghz version benefits well from the fast SSD though and once I had turned off Aero, the UI responsiveness went from poor to good.
Battery life: The production samples we have don't show remaining battery time and only count down in 10% charge increments but we took measurements throughout the session and as the meter dropped to 80% I calculated that the device would run connected, in-use with 100% screen backlight, light browsing and video clip playback for 7.5 hours. For such a slim device it's incredibly efficient.
Heat and Noise: None. Silent and cool to touch. One small patch gets warmer but it's hardly worth mentioning.
YouTube video playback. 720p using Flash 10.1 beta was good (only tested on 2.0Ghz)
Video. MKV, AVI, WMV. H.264, Divx, WMV9, MPeg2 all handled well. 1080p played in Windows media player. NOTE: I now see that there are some additional codecs installed on this production sample. It's obviously tweaked in terms of video software but it proves it works!
Special features: USB file transfer client. Fast SSD. 3-point multitouch.  Analogue video output. (S-video, VGA, component)
Loudspeakers: Very poor.
We talked at length about the value of multitouch in slate and laptop mode and clearly there's a lot to be learnt here. Multitouch is new territory for me and I can see it fitting well with programmable gestures and on screen keyboards in tablet mode but I still can't get used to holding 1.2KG of tablet. For me, multitouch in tablet mode is only going to be useful and feel natural when the weight is 800gm or less. As I said, i'm only starting the multitouch journey right now and maybe I haven't 'got it' yet. If you've got thoughts or experience with multitouch, your input here would be greatly appreciated.
JKK will be doing some Viliv S10 videos this week. Keep an eye on JKKMobile. My unboxing overview is here.