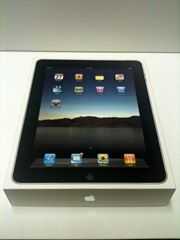 I was about two minutes away from hitting the publish button, on a post about how I was frustrated that the iPad wouldn't be delivered today, when I got a call from a number I didn't recognize. It was the UPS driver, he asked me to meet him outside to grab a package. I was told by not only Apple, but also several sources from UPS that iPad's would not be delivered, here in Hawaii, until Monday because UPS didn't do Saturday delivery in my area. This was frustrating because we of course wanted to bring our readers coverage of the device from day one (and who isn't excited to get a new gadget!) but it was starting to look like we wouldn't be able to do that. Despite the email from Apple and several confirmations from within UPS, the iPad got here on April 3rd, as promised, and the box had a nice big "Saturday inch sticker on it. Well played UPS — thanks for getting it here on time even if there was some sort of miscommunication!
Apple iPad Product Page (specs, news, links, and more)
So we've got our iPad and we're ready to start checking it out. I'll spare you are lengthy unboxing as the whole thing is relatively simple, and has been covered to death by the rest of the world by now. I'll just drop a few pictures and a very short video, and that'll be that for the unboxing and we'll quickly move on to the more exciting stuff!