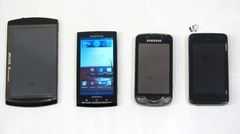 The core of a 'smart' device or consumer tablet/netbook  is the software and despite its shortcomings, the iPhone OS is recognised as the market leader. Android isn't far behind though and for some, the multitasking and 'openness' put it way into the lead. If you want the best Android experience out there, you've got to look slightly below the handheld tablet and smartbook category at the new high-end smartphones that are appearing. The Droid/Milestone, Nexus 1, HTC Desire and Xperia X10 are fast, fluid and a lot of fun. Only 10 days ago I bough an Xperia X10 and I've been writing about it on a sub-blog at XperiaX10.Carrypad.com Yesterday evening I posted the second part of my first impressions.
Overall it's an impressive bit of kit with a fast browser, great daylight camera, enjoyable UI and of course, seamless access to Google applications and the thousands of Google Marketplace applications.
It's a highly converged device and for anyone looking for the ultimate in web-capable smartphones, it's up there with the best of them but I can't help thinking that it would be even more enjoyable if it were simply a handheld tablet rather than a smartphone. On a 5 inch screen the experience would be way more useful/readable and the on screen keyboard would be much easier to type on. Finger-sized icons and menu items would take less effective screen space and there would be space for a battery that would last more than the 9-12hours that I get out of the X10 when I start using it like it should be.
I discussed the topic of convergence over at UMPCPortal and put the argument forward that I might be better off with something bigger and a separate phone but right now there isn't much choice out there so the question is, do I keep the X10 or sell it and drop back to my trusty N82 while I wait?
Of course, that's just me. I know that the majority of people out there just want one device if possible and if that you, take a closer look at the XperiaX10 blog because I'm continuing to test the device from every perspective. I'll also be interested to hear from Droid/Milestone, Nexus One, Desire owners too. How do you feel about total convergence?