When the N900 was launched, Nokia positioned it as a total convergence device. It's a dream (and the subject of my first ever blog post in 2006). The X10 is also aiming to be a total convergence device and does an incredible amount of activities with impressive quality but again I say no; and that's not all. Battery life is a major problem with every smartphone I've ever used. I wrote about the problem back in 2008 and again in January. The X10 re-confirms my theory. There is NO SUCH THING AS IDLE and screens and communications continue to take the lions share of battery drain. Smartphones, when used professionally  as smartphones, don't bring all-day battery life.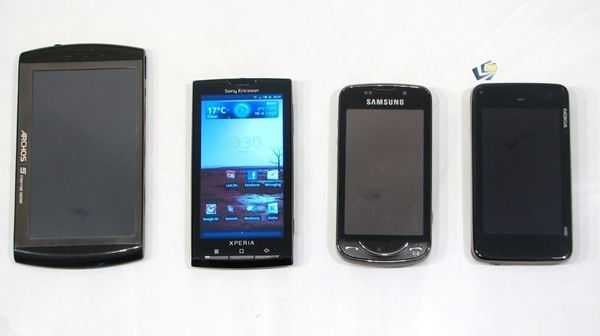 Forget talk about cpu idle power claims because it's totally irrelevant. 2W is the headroom needed to do all the things the marketing people tell you are possible and assuming you 'only' use the device for 15 minutes every hour, you'll need a 7.5wh battery to get you through a full day.
The X10 has a 5.5wh battery which means it's not going to hit the mark for many. It needs attention, a top-up late in the day and if you're to be ready for the next day it needs plugging in before you go to bed. That late-day top-up is a big risk if you're a pro user and relying on being able to take an important phone call or respond to an email at any time and if that risk is there, you'll need to manage it. In this case it means either a spare battery, a universal charger or, and I suspect that this is going to be the easiest route for many, take a second phone. Either way, you've got a second device and a problem.
Corner cutting.
The X10 pushes the boundaries in so many ways but it does it within the confines of a pocketable size, smartphone pricing and smartphone life-cycles and that means (and always will mean) cutting corners. The web experience is great but even though you've got 800×480 pixels, the pixels are too small. a 5 inch screen has always been better for mobile web browsing from the hand and now that people are experiencing even bigger handheld web experiences, the 4 inch screen has issues. Zooming to click a link is a pain in the backside.
Then there's the camera. How do you keep the price down and still provide a superb photo solution? You stick to daylight-only scenarios, drop the flash and choose a daylight sensor. The X10 is crap at low-light and flash situations. My 2 year-old N82 beats the pants off it.
How do you keep the design simple, reduce parts costs and avoid having to ship 500 different physical keyboard layouts? You make a tablet device with a software keyboard. Losing 50% of a landscape screen to a keyboard isn't nice but it's a great way to reduce the time-to-market costs.
How do you tackle the audio issues? Speakers need space, always. To fix that problem you ship it with a standard 3.5mm headphone port and hope no-one wants to use it as a radio. The speaker on the X10 is far from 'top quartile.'
A great MID.
A 500 Euro smartphone is an expensive item but when you look at what the X10 is giving you it's hard to put much weight on the corner-cutting. In terms of mobile internet, the X10 blows away any Intel-based MID I've tried. Sure, I'll have to put up with a no-flash experience but the X10 brings me email, PIM and calendar integration, sync and accessibility that I've never had before. The dedicated GMail J2ME app on my old Nokia 6280 was really fast but this is something else altogether. Being able to push information around (sharing with email, IM, Twitter, Flickr, Facebook and other important networks) is easier than on a PC and when you add the always-on feature, GPS (location based search adds a lot of value) a WVGA video capability and an 8MP camera that puts every PC-based 1.3mp webcam to shame, you've got something special that goes way beyond browsing. With 4-6hrs full-on web browsing time, 9GB storage and a 138gm (measured here) weight, you can forgive it not having the ability to beat a dedicated digital camera in a low-light photography test.
What have I learnt?
I've learnt that I use the Internet too much for a smartphone. Actually I knew that already which is why I'm still looking for the ultimate MID but the X10 serves to re-iterate that point. No smartphone battery can keep up with me.
I've learnt that Android fits me perfectly. I'm a Google user and Android brings my services to me in a way that no other device ever has and that means that I won't pursue a Windows-based mobile internet device. Actually, I never did. I knew that a dedicated OS was needed from day 1 but the choice just hasn't been there. [History: Carrypad was started in 2006 to journal my question for a mobile internet device]
I've learnt that I love having a top-end, stylish smartphone. Just because! (Who doesn't?)
I've learnt that the ARM/Android platform is able to bring a consistently high-speed, multitasking and flexible web experience. I experienced it on the Archos 5 and it's here again on the X10. Android will easily scale to bigger screens and given the apps, would be able to provide a productive internet experience.
I've reaffirmed that the Marketplace is critical. Without it, Android devices just can't keep up.
I've learnt that the X10 may not be for me but I know it will be difficult to part with it. I've tasted Google Android at 1Ghz and I don't want to step down from that. The Dell Mini may be my savior.
HTC Nexus One / Desire, Motorola Milestone / Droid
Many of you have been asking how the X10 compares to these two phones. I'm afraid I can't comment on the Desire and N1 because my hands-on was with a device that kept crashing but from my brief hands-on with the Nexus One I can say that the experience is very comparable. As for the Droid, I'll immediately say that the Droid is a better value device. It's available for under 400 Euros now and has the 2.1 upgrade. It offers similar photo, web and UI experience. If you're a Google user and smartphone oriented,you're not going to walk away from a Droid purchase unhappy.
The fact is that all five devices are top quality Android smartphones and offer an experience that will is likely to lock you in to the Android way.
Detailed first impressions and review.
I'm writing about the X10 in detail on a separate sub-blog and have just posted Part 1 of my first impressions. The article highlights three potential show-stoppers so take a look, comment and check back soon for part 2 where I cover the good stuff. Part 2 is going to be much longer than Part 1 I'm sure!
Also on the XperiaX10 blog:
Sample Daylight Photos. Wouldn't it be nice to be able to create photo's and videos on a UMPC!
Size comparison. Includes Archos 5, 5 inch PMP.
Information on the screen.  It's transflective. Why didn't UMPCs ever get good outdoor screens?
Unboxing and Open Review (with JKK)