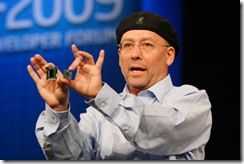 In a press conference today, Intel presented their processor range for ultrathin laptops. Naturally, many of us want to know if the processors will reach down into the tablet space so I put the question forward to Mooly Eden (right.) It was given a surprising answer. Intel will disclose a special tablet solution at Computex.
Here's the question and Mooly's answer as an audio file.
Click to play the audio segment.
I can only assume that Mooly is talking about something in the 'Atom' family of processors. This could be Moorestown, Moorestown-W or perhaps, something completely new. We'll find out next week.