Last Wednesday and Thursday I spent quite a few hours (clearly now wasted!) to analyze the Intel position relating to tablets buy taking that 'tablet silicon' rumor 'Moorestown-W' tips and previous rumors about an 'Oak Trail' platform. It turns out that it was on the money because Intel have just announced Oak Trail, the next generation ultra-mobile platform.
Oak Trail = Moorestown-W = Tablet Silicon optimized for Windows 7.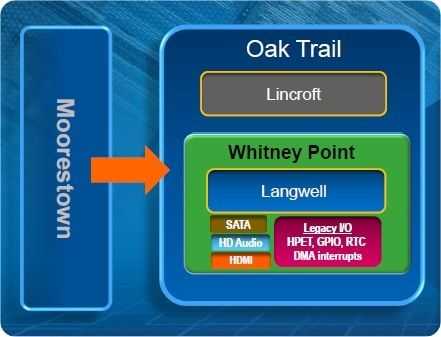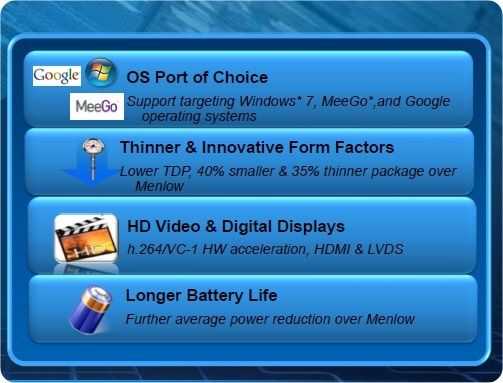 In the information I've been given so far, there isn't much more detail but tomorrow I'm doing a Live Blog of Intel's Ultra Mobility event at Carrypad [at this time in your location] which will give us more clues and allow me to work out some more details. You'll probably find more details on Intel's Computex press page too but note one thing. Just as Intel made a surprise announcement about Android on Moorestown, here they are announcing Chrome OS support. That's three Google/Atom products in just one month. Obviously Intel aren't just forming strategic alliances with Nokia.
Here's a summary of my prediction.
The 'tablet silicon' is likely to be Oak trail/Moorestown-W, another UMPC-style platform. It could enable 10 inch, 15mm tablets weighing 600gm running Windows 7 and giving 6hr battery life. Not only would it enable tablets of 600gm but it would enable very thin and light netbooks, slider and clamshell handheld devices running Windows 7 to a point where it could be a better Windows 7 experience than on current netbooks (assuming 1.9GHz max clock, double GPU power) and therefore, could evolve in to the next netbook platform at higher clock rates in a 32nm process. Note that the Intel AppUp store would run on this platform. Its sister product, Moorestown, will continue to be aimed at even smaller devices with 'always-on' capability. I.e. 'smart' devices. These would only be able to run Android or Meego however. All products are likely to have CPU's in the Z6xx series and are likely to be marketed as a family that fits inside Intel's idea of a 'continuum.'
See you over at Carrypad for the live blog and on both sites for more Computex news.