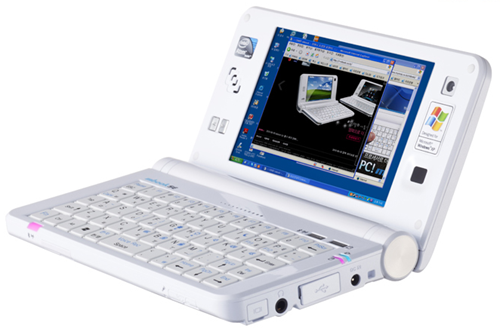 UMID Korea now officially has the mbook SE (Special Edition) listed on their site. The mbook SE is just like the mbook BZ [Portal page] that Chippy thoroughly covered, but it has twice the RAM at 1GB and replaces the BZ's 1.2GHz Intel Atom Z515 CPU with the Atom 530 running at 1.6GHz. The wireless has also seen a slight augmentation; it now supports WiFi N, in addition to B/G. Aside from these differences (and a white paintjob instead of silver/black one), the BZ and the SE are identical, optical mouse pointer and all.
The mbook SE is selling for $568 in Korea, and thanks to Pocketables, we have confirmation that the UMID mbook SE will eventually be available in the US through Dynamism.
We've fired up the UMID mbook SE tracking page in our device portal and it's got the full device specs if you are interested.