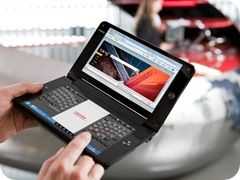 Are we reaching the end of the line for productive handheld PC's?
What OS will fill the gap and provide the applications and full internet experience?
Have we exhausted all design possibilities?
As I watch the Wow-Pow videos of the 'special edition' Toshiba Libretto W100 [All information now in the product database.] I wonder if I'm looking at the end of the handheld PC line. It's not that the W100 isn't any good it's just that for the first time ever, my watch-list is empty. The Sony Vaio P, Fujistu UH900, Viliv N5 have launched and the W100/W105 was the last device I would consider to be in the ultra mobile PC category. There's nothing else apart from 10 inch tablet variants built on netbook platforms that I'd rather not guess the battery life of. Beyond that its a world of minimalist operating systems, immature applications and a relatively slow and incomplete web experience that you're not going to be happy with if you depend on the web browser for your business processes.
Over the last year I've been saying to myself 'end of 2010.' That was the time period I set in my mind as the point at which it wouldn't make business sense to produce an ultra mobile PC and it looks like I could be right. Viliv, a company that produced fantastic mobile computing products over the last 3 years, is working on an Android tablet and that's the way everyone else seems to be going too. To be honest, there are very few options out there for designers right now. For anyone thinking about building a mobile computer the products required won't be ready until 2011. Moorestown, Oaktrail, Cortex A9, Android 3.0, MeeGo and WebOS will be the keywords on every OED's whiteboard and none of these products are going to be mature enough for a 2010 success.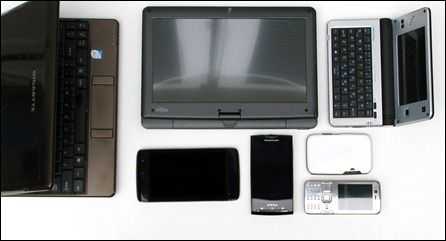 I can see it in our stats too. The number of articles on UMPCPortal has dropped. The traffic has dropped too. On Carrypad, it's another story. We could write 5 articles a day there if we were to pick up on all the rumors. Traffic is going up. In the product database we're adding netbooks and Android devices all over the place but very few 5-9 inch Windows-based devices.
Pages: 1 2