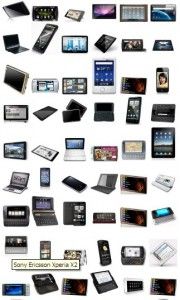 This might seem obvious but we think that many of our readers are looking for a similar product –  a consumer handheld internet device, which kinda makes sense because that's all we cover here at Carrypad!
We wanted to simplify the decision process and short-cut some of the fuss and hype that goes on around the tablet space so we've come up with a checklist for you. It's focused at the consumer tablet but much of this applies to slider and clamshell designs too.
Bookmark this article and when you see a product you like, take a quick look at this list to see if it fits the mould for an enjoyable, usable, flexible, quality handheld internet product.
Handheld Internet Tablet Checklist
Business User?
We've got some bad news for you. The market for consumer tablets has just started and hasn't yet fully evolved into business use cases yet. Some experimentation is taking place and of course, some basic business process can be done on these devices but as of August 2010, we don't recommend using a consumer internet device for business purposes. For business and pro solutions, look at some of the Netbooks and UMPCs around. These focus on moving the rich desktop operating system with it's applications and security features, into a more portable form factor.
Size.
Start with size. All sizes have a primary use so have a quick think about your requirements.
5 inch screen = single handheld in portrait and landscape mode. Entry-level for web browsing without zooming and panning. Can be under 500gm for one-handed use and ereading.
7 inch screen = single handheld in portrait mode only. Excellent size for web and a 1-meter video playback experience.
10 inch screen = two hands. Impressive touch and viewing experience and productivity potential. Table-top use.
For more detailed guidance on sizes and capabilities, see this post.
Features.
Once you've considered the size of the product, you can start to think about capabilities. Here's what most people will need to consider.
Web – High quality browser (but not full internet experience with Flash, plugins.) because 50% of tweets, many emails, many facebook updates come with a link that needs a browser. It's the common denominator of applications.
User interface – Must be finger-focused (if no pointer controls or keyboard are included in the design.) Developing a rich, deep, comfortable and enjoyable UI is a skilled job and takes a long time.
Applications (built-in or downloadable minimum requirements we expect to see) – Facebook, Twitter, YouTube, text editing, email (POP3, IMAP), PDF viewer, Epub viewer, image viewer/editor, mp3 player, video player, weather app, PIM (contacts, calendar with synchronization.)
Technical
Here are the main points to consider.
Screen – Capacitive (resistive is simply too fragile, awkward for consumer devices.)
CPU – ARM V7 architecture (e.g. Cortex) or Intel Z-series Atom Architecture. Even high-clocked ARM6 architecture CPUs (such as the ARM11 products) just don't have the processing power to support multitasking or the processing requirements of a good browser. ARM11 can be considered for ereading / mobile websites / navigation / audio but not a full, satisfying internet web and application experience.
GPU – Video playback hardware UTILISED BY SOFTWARE. Many products use a capable hardware platform but the software is not optimised for it.
Battery life – 4hrs on-net usage + quick standby (sub 20 seconds) or always-on capable. 4hrs is minimum.
Resolution – 800×480 is the minimum for web. 1024×600 for a 10 inch screen but this depends on user interface.
Connectivity / Interfaces – Wifi b/g , 3.5mm headphone port, storage card slot,  USB2.0 host port. (For adding keyboard, hard disk, 3G module. Many devices only act as clients – devices you connect to a PC as use as an accessory)
Design:
Consumers want something that looks good. Cheap plastics, creaky joints and wobbly battery covers don't help. Kicks stands help a lot. Included cases can extend the life of the device. On-frame controls help save space on-screen.
Price.
For a device that fits the above requirements we'd be looking at a entry level of $300.  [August 2010] Good design, good plastics, good components and good UI cost money. If you want to add 3G to your requirements, add $50 – $100 to that price. Consider that the leading-edge smartphones of today are costing $500 or more. Carriers subsidy does not make a low-cost product, it just spreads the cost.
Pages: 1 2