Performance
I've had my hands on several of the latest Android smartphones, and to my surprise, the unassuming Samsung Fascinate actually feels like one of the fastest. You might think that the Droid 2 or Droid X would take the title, but I must say that I've had what feels to be a snappier experience with the Fascinate. A lot of this perceived speed is thanks to the software build that Samsung has put on the Fascinate. You'll be able to read much more about that in the software section, but let me say that OEM's should not ignore that software has a huge impact on the usability of a device, and raw power alone doesn't make a phone the best one out there.
I was really surprised to see how the benchmarks turned out. Next to the Droid 2 and the Droid X, the Fascinate actually scored the lowest of the three on two out of three benchmarks. My surprise came due to the fact that, as I mentioned above, the Fascinate feels like the fastest of those three. Check out the benchmarks below – we ran Sunspider, Quadrant, and Linpack on the Fascinate and compared with previously benched devices: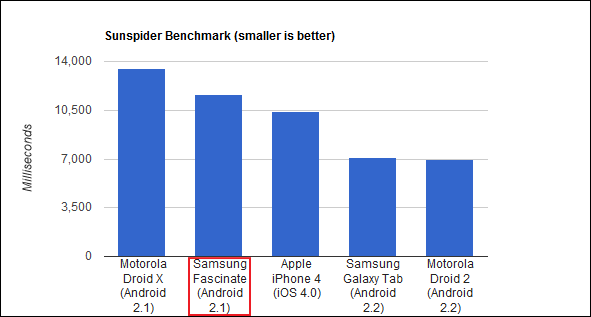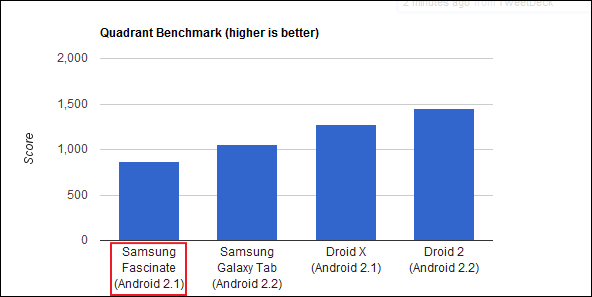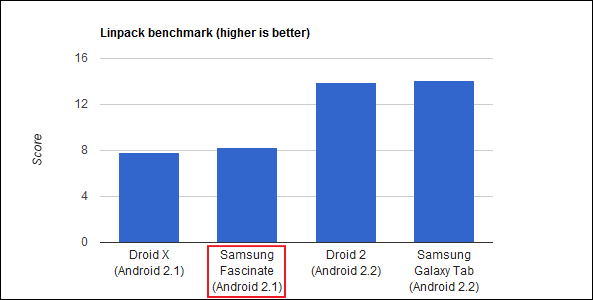 Battery Life
I tried running a formal test of the Fascinate's battery life using a few apps I found on the Market but none of them seemed to offer results that really meant anything (run-times might seem quantifiable, but the problem is that we all use phones differently), and thus I'll share with you my anecdotal usage of the device. I used the phone as a replacement of my primary to see how the battery handled throughout several days of typical use. What's most important for most people (and for myself) is that the phone can make it through one day doing everything that you've asked of it. There wasn't one day where I ran the Fascinate's battery out, and I do tend to use my phone quite a bit throughout the day for web browsing, social networking, email, calendar, SMS, calls, etc.
Samsung officially says that the Fascinate has up to 5 hours and 50 minutes of talk time and up to 300 hours of standby. I feel like these numbers are quite honest, and the Fascinate definitely does a decent job on standby. I was able to leave it several days without use and it would still be there ready to go if I needed it.
Service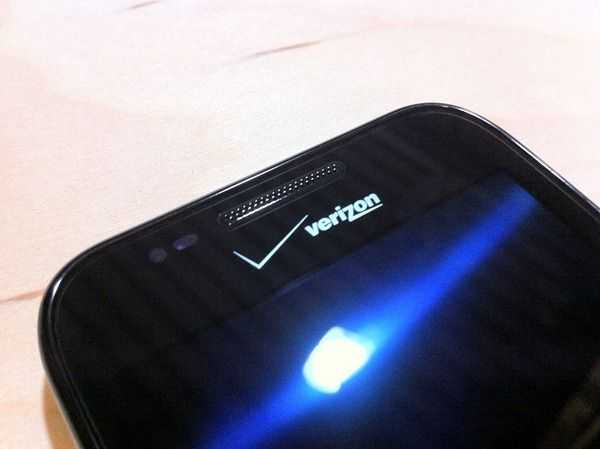 One thing that I definitely want to note (which is less about the phone and more about the carrier) has to do with service. I've consistently had great service with the Fascinate where my iPhone 4 has received none. AT&T claims to have the nations "fastest inch 3G network, and Verizon's claim is the "most reliable inch. I certainty feel like Verizon's claim is validated based on what I've seen during my usage of their phones. This is naturally subject to each individuals area, but for the densely populated urban location in which I live, I'd definitely count on the Fascinate in a pinch over the iPhone 4, if only for its reliable service. I found myself using the device's 3G Mobile Hotspot feature to give my iPhone WiFi where it had no 3G service. Ironic, some might say.