Applications
The Fascinate comes with some key applications that help provide a good out of the box experience. It also comes with some awful Verizon applications that look like they might have been designed circa 2005 and have bugs to boot.
ThinkFree Office:
One of the nice applications that comes built-in is ThinkFree Office. This isn't a proprietary app from Samsung, but it adds important functionality such as the ability to read PDFs and create/read Microsoft Office files.
Write & Go:
This is a neat but simple little hub for creating memos, texts, messages, or updating your social networks. At launch you'll see the keyboard pop up. Type anything you want, then use the "Send message inch, "Update status inch, or "Save inch buttons to perform one of the aforementioned actions. You can even update multiple social-networks at once which is handy.
Memo:
This is a simple application for taking quick notes and it gets the job done. You can color notes if you'd like. Sadly, you can't export notes in any way except for Bluetooth. Seems like email might have been a simple choice, but this isn't the first time we've seen software oversight in this phone.
Verizon Apps:
I honestly don't mind if a carrier wants to build apps into the phone, but they could at least offer some functionality and not crash. The Fascinate on Verizon comes with "My Verizon Mobile inch, "Mobile IM inch, "V CAST Tones inch, "V CAST Videos inch, and "VZ Navigator inch. Most of these apps appear to use the 3G data connection exclusively, even if you are on WiFi (thanks for racking up the data usage, Verizon). Some of them also cost additional subscriptions (or charge purchases directly to your phone bill) to use such as VZ Navigator which costs $2.99 per day, or $9.99 per month. Fortunately, there's nothing preventing you from downloading and installing the excellent Google Maps (pro tip: it's free).
Several of these apps appear to be ports from other phones and rarely take advantage of Android interface concepts. I've also had seen several crashes during the use of these apps. In summary, there's almost definitely a better alternative to every single one of them on the Android Marketplace.
3G Mobile Hotspot:
One of the Verizon apps that I actually love is the 3G Mobile Hotspot. This service will cost extra per month, but it works very well. The app allows you to turn your phone into a mobile hotspot for up to 5 other devices. This is really handy if you are a road-warrior and even just for backup when you find yourself in a pinch. You can choose the SSID of the WiFi hotspot that the phone creates as well as various security options.
Bing Integration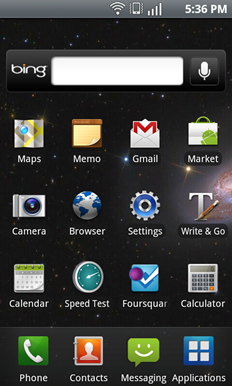 Verizon and Samsung decided to use Bing for the integrated search and navigation services. I'm not personally a Bing guy, but it'll get the job done. It functions essentially just as you'd expect Google to. There's a Bing search bar widget and it'll accept voice input as well. If you want to navigate somewhere, it'll bring up Bing Maps which are a pretty lame excuse for a navigation app when an incredible and free alternative is just a few apps away (Google Maps!). It's annoying to not have a baked in option to switch to the good old Google. Fortunately, it couldn't be easier to circumvent such things with a trip to the Marketplace.