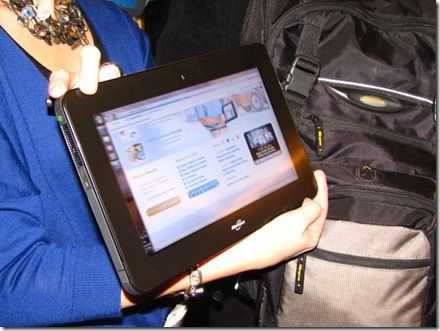 The HP 500 tablet was an important milestone for low-cost Tablet PCs as it combined the finger-friendly capacitive type input with the pen-friendly digitiser for using some of the important features of Windows 7 at a breakthrough price. The combination is perfect for those wanting true PC productivity in a tablet and really, without that digitiser, there's a mis-match between hardware and operating system in my opinion.
It was encouraging to see Lenovo Ideapad Slate offer dual-mode operation too and that one pushes the envelope even further by using the Oaktrail platform that appears to be offering quite an advantage in terms of battery life.
A third offering we saw at CES, and one truly 'built for business' was the Motion Computing CL 900. Not only are we talking about dual-mode operation on Oaktrail but this is a tablet with a full Gorilla Glass screen for extra ruggedness, IP52 dust and water protection, up to 2GB of RAM and SSD hard drive. There's an optional Broadcom Gobi 3G module too. The battery is a relatively big 43Wh and it charges in just 2hrs. There's a lot of unique features here in just 1KG of weight.
Full spec sheet. Click to Enlarge.
Berengere Viale-Brun of Motion Computing was kind enough to talk us round the device at the busy 'CES Unveiled' event last week and here's what we captured.