Ultra-mobile computing includes daylight usage and despite attempts at high-brightness screens in the mobile computing market, there has never been a truly low-cost mainstream solution on a device larger than about 4 inch. Transflective screens have been around for years and I vividly remember the Nokia E90 and how it worked so well in the sun so it's good to finally be seeing transflective screens on a netbook. OK, so the OLPC had a transflective screen too but that wasn't exactly mainstream!
Thanks to Clover we now have the Sunbook to consider. It's a 10 inch netbook running the Pinetrail platform (single core N450) with a high capacity battery. The key feature is the Pixel Qi transflective screen.
You've got two advantages to consider. Sunlight readability and battery life.
"Turning off the display backlight cuts the power consumption in half, providing battery life up to 12 hrs. or more. inch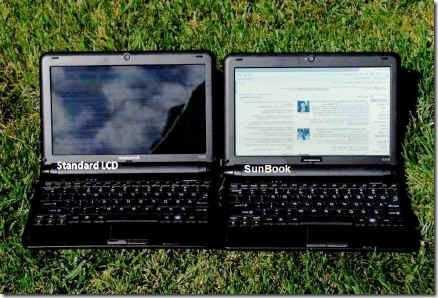 In theory, there's quite a gain to be had from turning off a backlight. At full backlight power on a netbook, a screen can take 2-3 watts of energy. On a netbook that can idle at 4W (screen off) it's close to a doubling of energy consumption. In practice though you're using the device when the screen is on and the netbook is draining an average 8W. The screen, in this scenario, is about 25% of the drain. In addition to that, one rarely operates the screen at 100% and rarely stays in the sun for 8 hours! I am sticking to my original estimate that a transflective screen will add about 10% battery life for the average netbook user although I'd be happy to do some detailed testing Clover! I don't want to belittle the advantages here because there are definitely users that would get a bigger battery life advantage and given bright ambient lighting, there are indoor advantages too but I don't want people running out an paying a $300 premium expecting a doubling of battery life. This is a specialist device for a niche customer.
Sunlight readability is the second advantage of the screen and is the real reason you would be looking at buying the Sunbook. Just being able to use a netbook in the sun for 30 minutes is worth a lot to many people. I can think of many vertical markets where this is important. My Solar-ultra mobile PC tour would have been much easier for example!
Testing needs to done on the netbook itself to see if it comes up to scratch but if it does, we've got a unique and price-breaking product here.
A PDF brochure is available here which mentions some splash resistance. The Clover Sunbook website is here and the current price is $795. We're trying to get hold of a sample for testing.
Via Liliputing