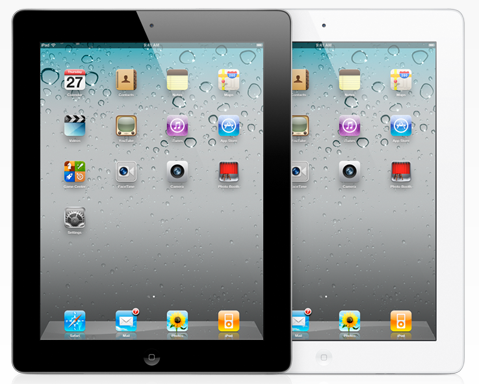 The iPad 2 is here! Are you surprised? Probably not. Apple is quite consistent with it's product iterations. There's nothing mind-blowing about the iPad 2, but it's definitely set the new bar for tablets. Here's the low-down:
Specs:
iOS 4.3
9.7 inch capacitive glass screen with oleophobic (fingerprint resistant) coating @ 1024 x 768
Dual-core Apple A5 CPU @ 1GHz
Enhanced GPU that Apple claims is 9x faster
16/32/64GB memory options
Forward-facing camera (with FaceTime support, naturally) @ 640×480 resolution
Rear camera for up to 720p (1280×720) video recording
Sensors: Gyroscope, accelerometer, light sensor, digital compass
WiFi a/b/g/n & Bluetooth 2.1
3G & GPS (optional)
25 watt-hour battery
White or black bezel options
Dimensions & Weight (and size comparisons):

The iPad 2 is 9.5 x 7.31 x 0.34 inches or 241.2 x 185.7 x 8.8 mm. That's right, the iPad 2 is ridiculously thin, probably the thinnest tablet on the market. It's even more thin than the iPhone 4 (9.3 mm).
Here is the iPad 2's size visualized against two other 10 inch tablets, and the original iPad: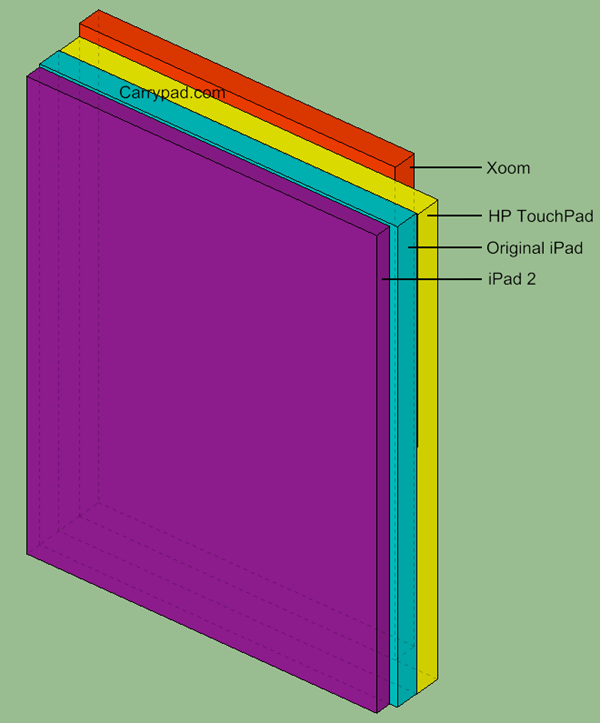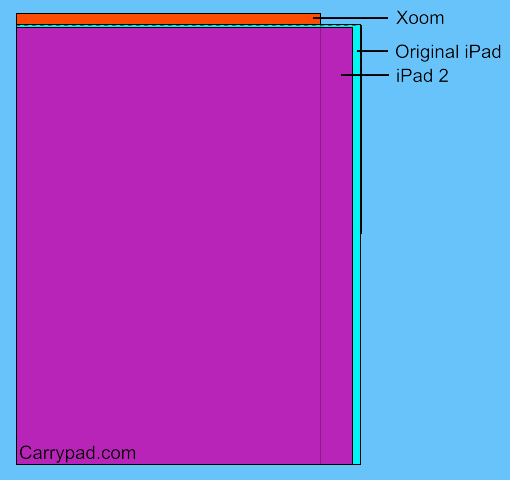 The iPad 2 is also a bit lighter than the original iPad: 1.33 pounds (601g) vs. 1.5 pounds (680g). Here's how its weight stacks up to the competition: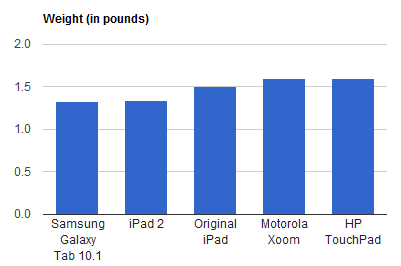 Weight was one of my major complaints in my iPad review, so it's nice to see that they've been able to bring it down somewhat. Still, as Chippy noted on twitter earlier, they fell short of the important 1 pound mark.
Design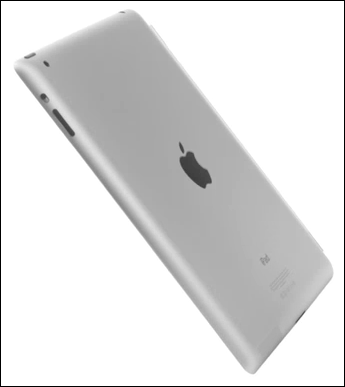 The design of the iPad 2 isn't far off from the original, though they've reshaped it to make it much more like the latest generation of iPod Touch.
Specifically, they've flattened the dome shape on the back of the iPad, but still let the edges taper up to the sides of the device. This eliminates one of the surfaces, so now you've essentially got just a front and back with a smooth transition between, rather than individual sides. Keeping the sides rounded means you'll be able to get your fingers under the device to pick it up, but the overall width of the iPad 2 has been reduced over the original.
Thanks to Apple's iPad 2 video, we got to see some cool shots of the device's insides. Check it out below: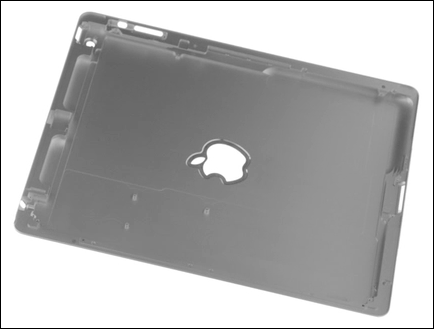 Continue reading on page 2 (Cameras, CPU, GPU, & Battery Life, Display Mirroring & AirPlay, iOS 4.3)…