When the ultra mobile PC world had a little more momentum than it does today, Sony had a few high-end offerings that stood head and shoulders above most other models in that they had some amazing engineering and used some relatively high-end CPUs. The Sony UX range had a huge fan-base and still stands on its own against competitors today. Looking at the Freestyle PC that was revealed in  a Sony presentation a few days ago, I see another unique product. Is this a sub 10 inch slider?
'Freestyle' indicates multiple usage scenarios with a consumer slant. The 'Hybrid' part of the name indiates the same but does it go further than that? While I don't expect a dual-CPU, I do expect the Oaktrail platform to be used to provide the Windows OS with an overlay layer. It might also include a dual-boot or fast-boot mode. It would be nice to see an Intel Android build on this to give a true hybrid usage model.
As for size, check this out. It's the Hybrid put side-by-side with the Samsung TX100 which is a 10.1 inch device.

The Sony Hybrid doesn't look like a 10 inch-er to me. There's no trackpad and the ratio of thicknesses (look at the USB port on the side) and frame width compared to the screen size says 7 inch or 8 inch to me. This could be a replacement for the Vaio P11. By looking at the P11 you get a better feel for the real-world size of the Hybrid.
And here's the 7 inch HTC Shift. Again, look at the port sizes.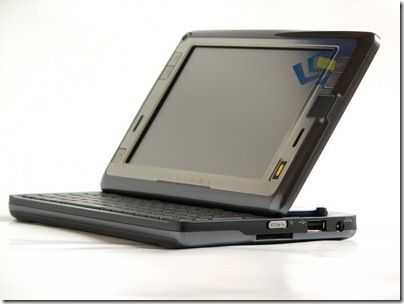 There are no specifications available for the Sony Hybrid yet so none of my speculation can be confirmed. I look forward to it though.
Freestyle Hybrid news found via Slashgear.