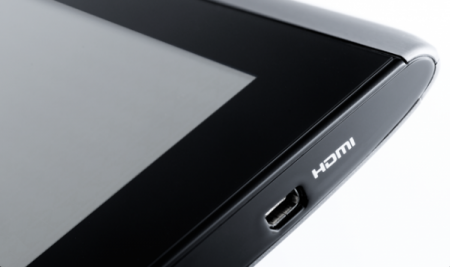 Despite pushing the "1080p" line all up and down their press release, it looks like the Acer's Iconia Tab A500 [tracking page] isn't actually walking out the door with 1080p capabilities.
According to a tiny footer I've discovered on the A500's official product page, the unit can only currently push 720p video through its mini-HDMI port. However, an update slated for June will allow the A500 to output 1080p, more than 2x the current output resolution.

It's a good thing that the A500 is using the Nvidia Tegra 2 processor as it is indeed rated to handle 1080p output. Tegra 2 also supports decoding of a pretty impressive list of codecs, but in our testing so far, we've found that the A500's built-in software can only play a very limited number of file-types.
Here's to hoping that this update promise doesn't go the way of just about every other promised Android update from carriers or OEMs, you know… the way that they tend to come months later than expected.
There's no word yet as to whether or not the same update treatment will have to be given to the soon to be released Acer Iconia Tab A100/A101 [tracking page], or if it'll actually ship with 1080p output capability.