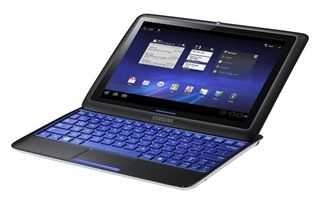 I've been talking about this since, well, over a year ago.  Intel's new-generation mobile platforms, including Oaktrail, Moorestown and Medfield, could couple well with Android. I don't mean a community X86 project, I mean official, Google approved, power-optimised versions of Android. Honeycomb included.
Image right: Mock-up
Digitimes just reported that "Asustek Computer and Lenovo are to launch Oak Trail/Android 3.1 tablet PCs soon and also Cedar Trail/ Chrome models in the second half of the year. inch
Dual mode tablets will be possible and there's even a chance that virtualization could let multiple OS' run concurrently. Oh how I hope Intel get on stage at Computex and show Windows, Meego and Android running on the same device. Why? Because it's a great choice for the pro-customer and when it comes to productivity, we need more CPU power than ARM-based solutions can deliver today. Intel should also be able to achieve 'always-on' with these new platforms too. When I asked Intel about Android a year ago they said that power optimisation work was lagging MeeGo. Lets see next week how far MeeGo has come. I'll try and find someone in Intel to give us a Honeycomb update too.
Anyone fancy a triple-OS Samsung TX100?
VIa netbooknews.