In a press-release from Intel today they have announced more details on what we know as Moorestown; the low-power computing platform that should take Intel to the historical moment of enabling an X86 mobile phone. The two-component platform will implement the Z6XX processing unit (was Lincroft) containing Atom-based CPU, GPU, 1080p video decoders and 720p encoder, and the MP20 'Platform Control Hub' (was Langwell) alongside a power control module that has previously been referred to as Briertown.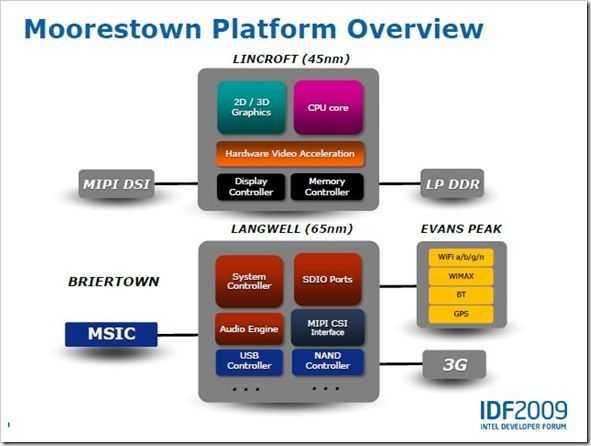 Moorestown. As seen at IDF 2009.
Our analysis of Moorestown can be found here.
Details in the press release highlight much of what we have gleaned before but there are two very interesting bits of additional info. First the summary…
Collectively these new chips deliver significantly lower power including >50x reduction in idle power, >20x reduction in audio power, and 2-3x reductions across browsing and video scenarios all at the platform level when compared to Intel's previous-generation product1. These power savings translate into >10 days of standby, up to 2 days of audio playback and 4-5 hours of browsing and video battery life. When combined with 1.5-3x higher compute performance, 2-4x richer graphics, >4x higher JavaScript performance, and support for full HD 1080p high-profile video decoding and 720p HD video recording, these low-power innovations bring a rich, PC-like visual experience to powerful handheld computers.
In effect you've got a platform that halves the power profile of the previous generation platform while introducing new features that enable lower power states and power control over individual CPU sub-modules know as power islands. That will bring the average platform utilization down to 1W levels (in-use) which, if you've done any MID-style activities on a smartphone lately, means it's in the same ballpark as modern smartphones. Intel's '4-5 hours' browsing figure is based on using a 5.5wh battery (1500mah single-cell) with all the usual power-hungry components like screens and radios.It's unlikely to beat the battery life on the best smartphones but there's another twist here. Turbo!
These power management capabilities, when combined with Intel® Burst Performance Technology for high-performance on demand, and Intel's Bus Turbo Mode for high-bandwidth on demand, help to deliver industry leading performance and power efficiency across a range of handheld devices.
So if you add the low-power idle features with the turbo modes you've got a platform that spans a wide range of uses. The smartphone version of the Z6 is going to be able burst to 1.5Ghz [We've heard that it nominally runs at 600Mhz] and there will be a higher-power version that will burst to 1.9Ghz and could make a sweet sweet MID, or 'smart' computing platform.
All this new technology is going to need a new operating system and that's what Moblin was for. Intel built Moorestown and Moblin in parallel so that they would dovetail together. Don't expect Windows to be running on these platforms.
Of course, Moblin is migrating into MeeGo (where it will support two competing architectures; X86 and ARM) but there's another OS mentioned here. Android.
Why would Intel mention Android and not Windows? Probably because they are working with Google on a X86 version of Android that would slot in well here. Remember, Intel are members of the OHA, the organisation that brought you Android. There's been no formal announcement on Android yet but Intel are not exactly trying to keep it a secret. How that will sit with MeeGo is anyone's guess but it does give Intel an important second-string to their bow.
Update from the fact-sheet: "Intel has worked with Google over the past few years and is providing support for the Android platform at launch"
Fact-Sheet (PDF)
Here's a video of Android running on a Moorestown smartphone from MWC in Feb.
Additional info: What Moorestown Means for Consumers.
One last thing to mention is that Intel are now happy to talk about tablets in their PR again. It seems that the old days of hopeless 'tweener' UMPCs are behind us now! Personally I think there's more potential in social netbook-style devices than tablets but that's another story.
We're meeting Intel at Computex next month (as an Intel Insider I've been invited to Computex) where I'm sure we'll hear about launch dates, devices and a whole lot more so stay tuned. The only problem is, does all this belong on UMPCPortal, the productivity-focused mobile devices website, or Carrypad, our sister website devoted to consumer internet devices? Moorestown has the potential of spanning both and that's exactly the big story here.
Update: I've posted some more analysis of the Operating system options here.
Lots more Moorestown reading under our 'Moorestown' tag.
Source: Carrypad