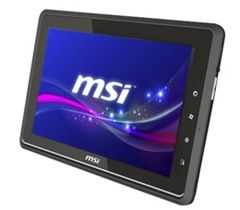 AMD announced the Z-01 tablet-focused Fusion platform today and Netbooknews have already tracked down the first product to be built on it. Here's the proof that the MSI Windpad 110W has the Z-01 APU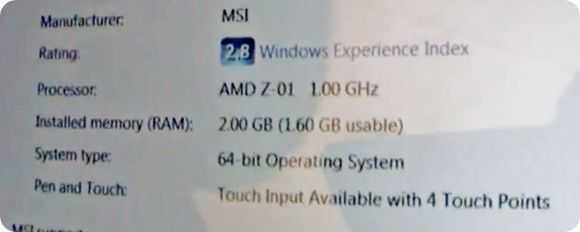 Netbooknews are seeing 2GB of RAM (the platform support 4GB in theory) a 4200mah battery (probably 30wh in total) and a 32GB SSD.
Let's remember that while the GPU is a real bonus and advantage over that which is delivered in the Intel Atom platforms, the CPU comes in between an Atom N450 and an N550, assuming it's the same core design as an AMD C-50. A lot of the responsiveness is going to hinge on the performance of the SSD.  The battery life is going to hinge on MSI's engineering skill because a 5.9W TDP doesn't allow room for sloppy electronic design.
I like the integrated mouse pointer and the docking station port. The 3MP camera (not 5 as mentioned in the video, we believe) could be useful too as that's rare on a Windows device.
Price-wise we're looking at around $599 if the pre-order rumours are true.