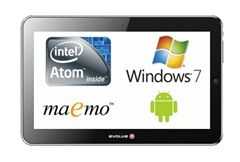 About a year and a half ago I looked deeper into Intel's Moorestown to report on some of the key features. One of those features was power gating which could significantly reduce the power drain of the platform by turning of areas of the CPU/GPU when they weren't in use. It's the feature that brings Intel into the 'always on' space but offering a 50x reduction in idle power.  The only problem was that Windows wouldn't run on the Moorestown platform so it was for Meego and Android only.
Oaktrail, the Z670 and Z650 parts, also have this power gating feature in the same Lincroft CPU and Briertown power management IC that Moorestown offers however, as far as I can see, Intel haven't ever said that Oaktrail could run at a 50x idle power reduction. It could be that the extra hardware needed for Windows support affects the idle power achievable. Intel have also been quiet about possible battery life advantages of Oaktrail too. We've seen encouraging figures but have still yet to see real-life examples of the advantages of an Oaktrail-specific Meego or Android build.
But there still could be some advantages in running and Intel Meego and Android version on Oaktrail due to the extended power states and some claimed battery life figures from Evolve III today show that although there may not be a 50x idle power reduction, there still may be something special that Meego and Android can do to get the best out of the Lincroft/Briertown combination. Evolve are claiming some impressive battery life figures.
Windows 7â"¢ 10+ hours
Android 16+ hours
Maemo 18+ hours
We assume that Evolve III are referring to Meego rather than Maemo and we also assume that these are idle or low-usage battery life figures but even so, there's a clear difference being claimed there.
You can find out more about the Evolve III Maestro S here. We suspect that you'll see this design popping up under different brands globally. The Viewsonic Viewpad 10 Pro is likely to be using the same hardware so watch out for similar claims for Viewsonic.
Note: Intel are maintaining the OSPM package for MeeGo. We assume that's the case for their Android build too.
Notes OSPM (Operating System Power Management) is the name of the software feature-set that can interface with the new features and power-states. S0i1 and S0i3 are the unique power-states that the Moorestown and Oaktrail platforms offer.
Note 'Briertown' was a working name for the power management IC. Compatible IC's are available from Renesas, Freescale and Maxim. More information below.