Let's say you need a UMPC. It's not as uncommon as some people think. It might not be the consumers cup of tea but in industry, mobility counts for a lot. Logistics, amateur pilots, health industry, blue-light industry, traveling geeks and other situations where full capability, compatibility and flexibility in the smallest package is key. The problem is, if you need a ultra mobile PC today, what the hell are you going to buy?
Lets put down a little wish-list for the sake of the argument.
Sub-1KG, Windows 7 support, 5hrs battery life 5-8.9 inch screen, easy conversion to keyboard/screen device. Price under $1000.
The shortlist I would recommend right now would be the following but they are all 'last-gen' UMPCs, at least a year old and going out of stock, and probably entering the end-of-life phase.
Fujitsu UH900
Sony Vaio P
Viliv N5
Viliv S7
Viliv X70
Archos 9 (with SSD, 1.2Ghz)
UMID Mbook SE – Thx to Gearsguy for the information on the availability and videos. I've included one of the videos below.
If you need a keyboard, the Mbook SE, UH900 and N5 are worth a look. The Archos 9 is good value at under 450 Euro right now and the X70 is a great performer. Isn't it underwhelming that these devices are all over a year old though.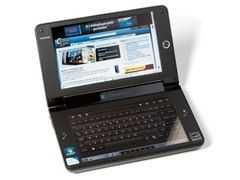 One device I took a second look at was the Toshiba Libretto W100. Originally this device was available for 1100 Euro. Today, it's under 600 Euro in Europe making it an interesting option because of its CPU – Pentium Dual-Core U5400 with 2x 1.20GHz that comes in at about 130% the processing power of a high-end dual-core Atom part. It also includes 2048MB Ram and a 62GB SSD. This is certainly an ultra mobile workhorse but the design and battery life are going to be issues for some. 3hrs isn't that exciting.  Interestingly this could make a super ultra-mobile video editing platform.
This dearth of options in this space is because of two things. Firstly, Menlow is out and Oaktrail isn't yet in. There isn't really another platform to think about right now although I've got my eye on AMDs Z-01 We're going to have to wait for a set devices on Oaktrail for another few months. The other issues is the 10 inch tablet craze. It puts designs at around the 1KG mark and limits usability. The Viliv X70 is one to keep an eye out for but based on the silence from Viliv, I'm guessing it's not close to being available yet.
Widening your choices
Netbooks, starting at about 1.2KG (2.6lb) and large-format Windows tablets (again 1.2KG when a keyboard is added) along with 5~ and 7~ Android tablets and the iPad2 all need consideration. Even the >4 inch Android phones with the latest CPUs. As Meego filters in, keep an eye on that too as it spans mobile and desktop environments. Finally, Honeycomb and WebOS are operating systems to watch. Personally I have high hopes for Honeycomb as one of the more flexible operating systems to cross-over into a productive and flexible environment and that could happen on either ARM or Intel.
Choosing a platform for 2012
Oaktrail – Intel's Z6xx series. We've seen it running Windows, Android and Meego already, it will run Chrome OS and there should be forward compatibility with Windows 8 making it, in my opinion, one of the most interesting ultra-mobile platforms out there right now. Intel builds of Honeycomb and Meego should be able to squeeze more battery life out of it too. There's a 2X graphics improvement over Menlow (GMA600 vs. GMA500) and even hardware 720p video encoding which could speed up video rendering. At 1.5Ghz, it's not the most CPU-powerful platform but Intel have already talked about 1.8Ghz versions and I'm sure, if the platform becomes popular, we could see dual-core versions too. Why Oaktrail and not Cedar Trail? Because it's got power management capabilities that Cedar Trail hasn't got.
Waiting for Sandy Bridge.
Sandy Bridge in ultra-low-voltage guise is very interesting. I recently tested an AMD-E350 based Lenovo S205. It was good. It's TDP (CPU+GPU) is 18W and the CPU performance is high-end Atom level. Sandy bridge, on the other had also comes in 17W TDP variants but the CPU performance on these simply blows Atom, E-Series Fusion and even first-gen Core parts out of the water. with around 5x the CPU performance of an Atom CPU along with some good GPU performance. Price is high as we've seen with the Samsung Series 9 but that devices comes in at 1.3KG with 6hrs of battery life and serious compute power. It's a sign that Ultrabooks could push down in to even smaller and lighter designs.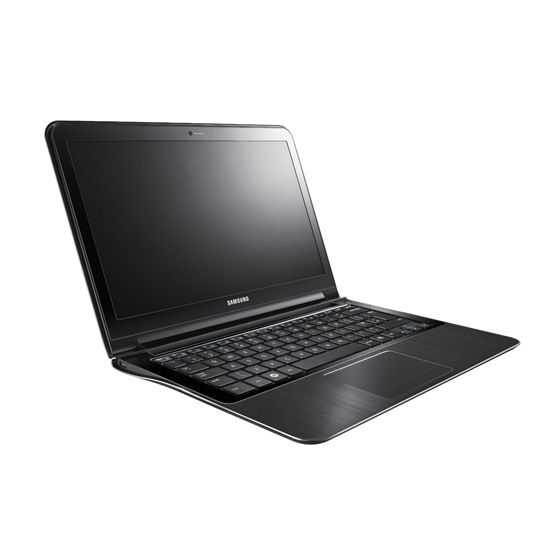 My plan. What's yours?
Today I sold my last netbook / laptop. Over the last few months I've been having a clear-out and now I'm left completely without any sort of mobile productivity device. It's a nice position to be in but it's going to be a tough decision. Right now I'm favouring the Samsung TX100 / Gloria / PC7 Slider on Oaktrail because I'm interested in Oaktrail performance and multi-OS scenarios. I'm worried about the CPU performance though. I'm also looking carefully at that Toshiba W100/W105 show above. I think I can run PowerDirector video editing suite on that and get some usable 720p rendering speeds that should be 2x what the Oaktrail platform can produce. Finally, Samsung have another very interesting product in the Series 9 laptop on Core i5 Sandy Bridge. It's an expensive item but a real mobile workhorse. And why am I looking at all these laptop-style devices? Because after spending 7 months with the Galaxy Tab I've found that there are fewer things I need to do on a laptop now and those things generally involve high-productivity working with Video, Images and multiple windows. The 7 inch tablet has filled a great position but along with my new requirement to product 720p videos, has pushed up my requirements for a laptop.