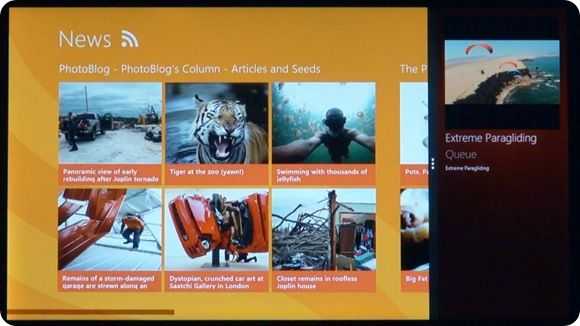 There's lots to learn from the demonstrations and information on Windows 8 from the last few days. Not only from Microsoft themselves but through the reactions and thoughts of commentators. I've given it some time, made some notes and am ready to put my thoughts down.These are the thoughts of someone that's used tablets in both the commercial and consumer world, someone that loves social networking but someone that also knows how important Windows is for getting things done.
First and foremost, we must remember how important the desktop is to Microsoft. We can talk about tablet and touch all day but the fact is that Microsoft need to deliver a backward-compatible operating system, somehow. Having said that, I'm surprised that Microsoft didn't talk about splitting the old from the new and going along two tracks. Or perhaps they did…
Windows 8 has an overlay layer that will introduce a finger-friendly homescreen. My first thought was 'oh dear' but there's one major major difference between what Microsoft have done and what others have done in the past by offering an overlay layer. Applications.
By including a new apps layer within the overlay layer it will allow it to get richer and richer over time so it's possible that after a few years, you have a completely self-contained operating system that doesn't require 'old' Windows for many people. At that point, you can actually dump the old Windows apps and layers and offer a very thin touch-oriented OS to those that want it. In the meantime, you get the best of both worlds; what I call High Dynamic Range Computing.  Of course, this assumes that the developers come and fatten out the UI layer but with HTML5 and Javascript support, the barrier to entry is low. Having this dual-personality may look strange to start with but could be the best way to offer an operating system that can concurrently run two modes of operation. It's powerful and a great bridge to future versions of Windows.
If you're looking for a slim, touch-driven operating system Windows 8 is going to be frustrating on day 1 but on day 356, it's going to be a different story.
Moving towards always-on
By the time Windows 8 is available, both ARM and Intel will have always-on mobile platform offerings. You're likely to have always-on, sleep+poll and quick hibernate for month-long battery life. Finally the 'lock-in' features of phones and tablets will move to the laptop an maybe even the desktop. Fast-boot should also help mobile users.
Cost
Windows 8 is likely to cost a considerable amount of money over, say, a Honeycomb tablet or smartbook. Not only because Microsoft will charge a license but however much they try and slim it down, 32GB of fast storage and 2GB RAM requirements are likely to push up the hardware costs. Considering the amount of multitasking that goes on in Windows, fast memory busses and higher CPU requirements are also to be expected for the same end-user responsiveness. Platforms that run Windows 8 will be more complex and more expensive than what we see in the ARM-based tablet world.
Features
The background processes in Windows aren't there just for fun or because of sloppy programming. Windows is a complex operating system with an amazingly rich out-of-the-box feature set. Just think about simple things like multi-user support, file sharing, multiple input device support, the IP routing subsystem, multiple audio device support and the many layers of security that are included. Windows 8 will be a rich, professional-level operating system out of the box with a unique feature among tablets. As with previous Windows versions, you'll be able to run multiple apps on the same window but Windows 8 has built in an easy way to slot in a 'tile' application alongside a traditional Windows applications. Neat.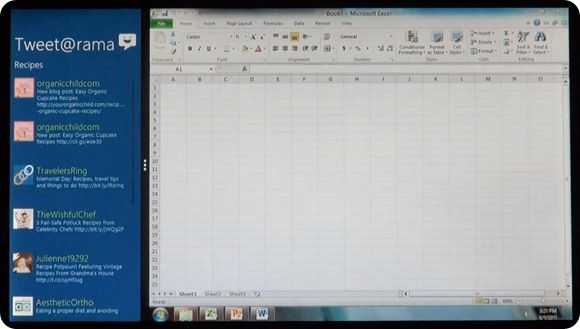 Badly Needed
We've talked about the application store. While that's not too critical for 300MB office package installs, it is critical for the smaller try-buy-recommend applications that you're' likely to see in the new user interface layer. It's good to see (although it hasn't been officially confirmed by Microsoft) that it will be core to the system. The other, extremely important element is sensors. While Windows 7 enhanced the way sensors were supported and offered to applications, it never took off. Windows 8 needs to support the full range of sensors in a very integrated and easy way and the HTML5 and Javascript apps in the new UI layer need to able to access them easily. While sensor support has been mentioned, there are still open questions here. Finally, something I find extremely critical is the sharing subsystem. I don't just mean sharing of data to cloud-based services like Flickr or Twitter, I mean being able to pass data between applications. URLs, images, clipboard text and more. It works so well on Android and really pulls the user into switching between applications and, of course, sharing with friends and community. Fortunately, in the Microsoft presentation video you see below, that feature looks like it's there.
Other questions
Handwriting support. Critical in many vertical markets, education, health and other.
Hover support. Hover is a core feature of the desktop internet and application experience. Windows needs to continue to support this through various input mechanisms. Apps and web pages are unlikely to migrate to 'hover-free' any time soon.
App support for ARM-based devices. There's no getting round the fact that applications will have to be recompiled for ARM-based devices. That effort translates into a barrier.
Small-screen support. With a recommended screen size of 1366×768, will we see support for smaller resolution screens that are common in 7 and 10 inch form factors?
What about the cruft? Will Windows 8 come in 'mobile' versions for mobile hardware? E.g. Will it run on systems without PCI, BIOS, USB for example.
Windows 8  could enable HDR Computing
Again, we must not forget that Windows is primarily a table-top mouse-and-keyboard operating system and will remain so for a very long time. What Microsoft is doing it introducing a way for developers to enhance a touch-layer for a time when tablets could be critical to revenue. If the touch-layer develops well over time (say 5 years) it could become a standalone user layer but for the time being, what we're seeing is a good start and way more than 'overlays' that we've seen in the past. With improvements in sensor support, always-on ( I truly believe that a Windows 8 'ultrabook' could idle down to 7 days of Wi-Fi-on, screen-off battery life) and fast start, fuzzy (widened or 'snap-to' ) touch areas that are critical for hyperlinks, and an easy and quick app store, Windows 8 will address some of the core issues of Windows 7 when used in a mobile or tablet setting. Microsoft needs to take care of sharing subsystem and sensor support and exposure to the touch UI layer though to complete a nice recipe for a high-dynamic range operating system. Windows 8 was one of my 5 operating systems to watch for HDR-Computing, it looks like it could be the first to achieve it.
Microsoft Presspass article on the recent Windows 8 demonstrations and discussions.