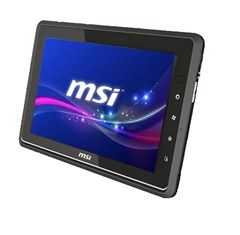 Just over a month ago AMD announced their tablet-focused Z-01 APU, a dual-core APU focused at the Windows Tablet market. On-stage at the announcement was MSI showing off the Windpad 110W. We've seen a video and had a taster of the specs and hints about the price but today we're able to bring you something more official.
Remember the MSI Windpad 110W has the 1280×800 screen and integrated mouse pointer, 32GB SSD, HD decoder (via the 6250M graphics,) 2GB of RAM and Windows 7 Home Premium A well balanced feature set for a mobile PC. With a 2-cell battery we're probably looking at 30-40Wh of power (unconfirmed) which is a 3-5hr usage time. If the Windpad includes some nice accessories (we're assuming the docking port is still included) it could make quite a well balanced product. And good value too.
We're seeing a 32GB non-3G model for €559 (Notebook.de) and a 3G model for €659 (also Notebook.de) The only thing missing is availability, and of course, a full test.